This post is also available in: Italiano
This is a different way to prepare roasted meat.
The recipe can be used easily, even if you have guests over. The proposed quantity is plenty for 4 people, be aware that if you use a smaller amount, given the type of cooking, it will tend to make the meat a bit drier and harder.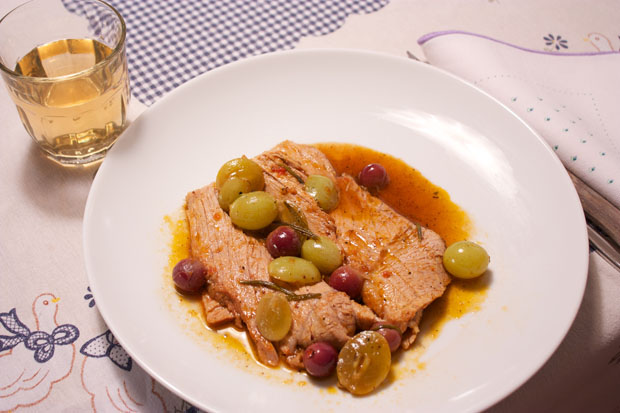 If you have leftovers, you can put them in a sandwich and to bring it to work on Monday morning. Simply add a few leaves of lettuce and a teaspoon of mustard.
ROASTED VEAL WITH GRAPES
(Serves 4)

2 ½ pounds veal rump
1 tablespoon of tomato sauce
½ teaspoon dried rosemary
2 bay leaves
2 cloves
½ cup white wine
1 quart of vegetable broth (use prepared broth or bouillon cube)
1 tablespoon of flour
3 tablespoons olive oil
salt and pepper
½ pound white grapes
Sprinkle the meat with the flour, salt and pepper. In a saucepot, pour the olive oil and when it is hot, add the meat and saute for 5 minutes over high heat, turning it often until it is golden. After it becomes a golden color, distribute the juices evenly over the meat with a brush. Sauté for 5 more minutes.
Add the wine, all the spices, and vegetable broth. Continue cooking in a covered container for about an hour, stirring often, being careful the meat does not stick.
When the meat is cooked, remove the roast from the pot and set it aside on a plate. Strain the juice through a sieve (remove the bay leaf and cloves) and place it in the pot to boil along with the grapes that have been cut in half. Allow it to cook for 10 minutes until the cooking liquid has reduced.
Serve two or three slices on each plate, accompanying them with the reduced sauce.