This post is also available in: Italiano
I always considered cod a fish from the world of "industrial" cooking because it is easy to find precooked and frozen in various shapes and flavors. For this reason, I was always careful to avoid buying it.
One winter we went to Boston to spend Christmas with our son. It was in Boston where I experienced the goodness of fresh cod and combinations that you can do to make it pleasant tasting.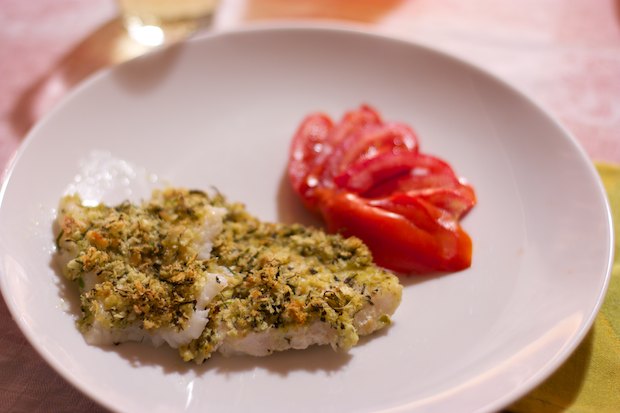 I discovered that cod fisheries are in the cold waters of the north managed by many Italians (Sicilians) who emigrated specifically to work in these fisheries. Returning home, I tried this recipe that combines a fish from cold seas with lovely herbs from the heat and sun.
The recipe is fast and low in fat.
COD FILLETS WITH AROMATICS
(Serves 4)

2 pounds of cod fillets
4 tablespoons extra virgin olive oil
4 tablespoons of the inside of day old bread (for homemade breadcrumbs) if you do not have 2 tablespoons of boxed bread crumbs
1 bunch of fresh herbs – thyme, chives, oregano, lemon balm (these herbs can be replaced by dry ones, if using dry herbs, use a small amount of each type)
salt and pepper
Preheat oven to 400°F degrees.
Wash the fillets and dry them thoroughly. Grease a baking dish with very little oil. Blend the herbs with the bread crumbs.
Brush each fillet with a bit of olive oil and turn them in the mixture of herbs and bread crumbs.
Arrange in a pan and add a little of any remaining bread crumbs over each fillet. Add salt to taste and add a little pepper. Bake in preheated oven for 30 minutes.
Serve in individual dishes with a few tomatoes.