This post is also available in: Italiano
This dessert is very simple and light.
Some years ago, during a trip to Sicily, I gained an appreciation for this dish. When I returned home I immediately wanted to try the recipe, recalling the flavors that I recognized.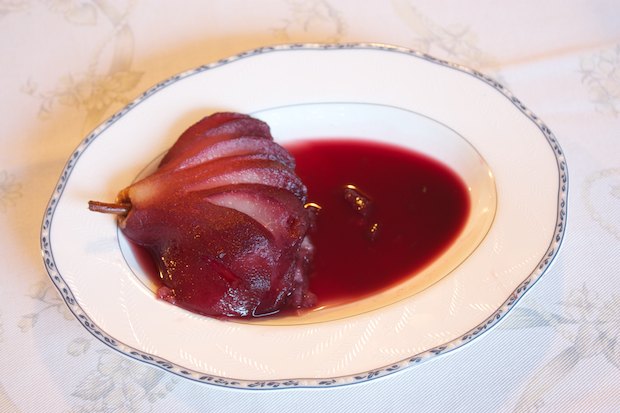 A trip to Sicily is a feast for the palate since the Sicilian cuisine is a explosion of flavors and colors. The pears that I tasted were cooked in Malvasia delle Lipari wine and served with vanilla ice cream, flavored from the peel of mandarin oranges.
In this recipe, I suggest using a red wine such as a Cabernet Sauvignon because it's easier to find. If you want, in a serving dish you can add a scoop of vanilla ice cream that has been drizzled with the wine reduction. If you are lucky enough to find Malvasia delle Lipari wine and a lovely perfumed mandarin, use all the ingredients in this recipe and simply substitute the red wine with Malvasia, grate the mandarin peel over the ice cream, and enjoy!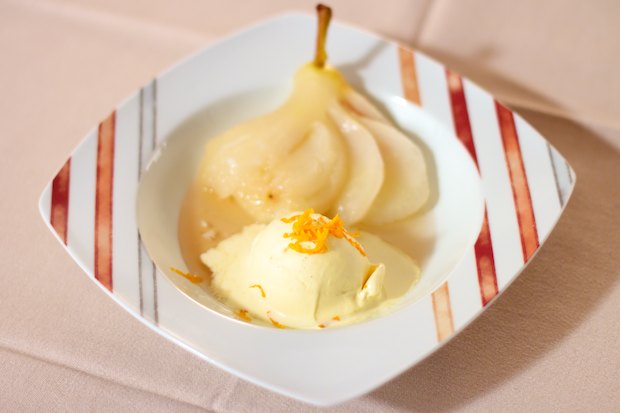 PEARS IN WINE
(Serves 4)

4 red barlett pears or other firm pears, peeled with stems left intact
2 cups cabernet sauvignon wine
3 tablespoons brown sugar
1 piece of lemon peel
1 clove
½ teaspoon cinnamon
½ teaspoon vanilla extract
Peel the pears, being careful to keep the stem intact. Wash them and place them in a deep pot. Pour all ingredients over the pears.
Close with a lid and simmer over medium heat for about an hour, checking often. The pears are cooked when they are fork tender.
Remove the pears from the sauce and cook together with the lemon peel and clove. Continue cooking until the sauce becomes foamy.
With a sharp knife, cut the pears into slices, leaving a piece near the stem intact, and place them in a shallow dish or bowl gently opening each one like a fan.
Drizzle with the sauce. If you wish, add a scoop of vanilla ice cream.