This post is also available in: Italiano
During my childhood, pork was the preferred meat of rural families. Pigs were raised on each farm to ensure the intake of protein and calories needed for heavy manual work. Pigs were fed with natural products – the waste of corn, the leftover water from boiled vegetables, and whey (waste from the processing of milk into cheese). Today it is rare to find pigs raised in this way.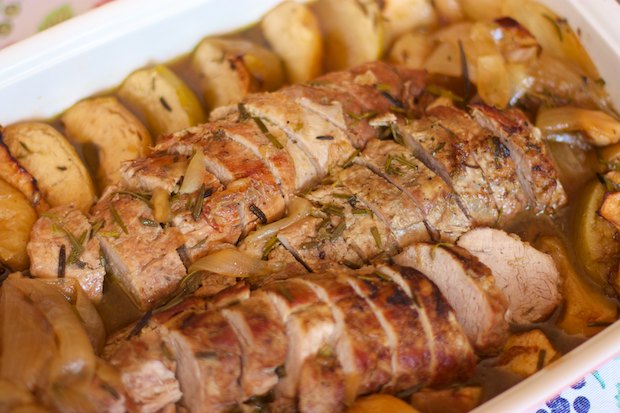 It is still possible however, through research in the area where one lives, to find farms that try to keep the livestock using healthy principles. I discovered a farm named Andriana near my house, that has an adjoining butcher shop where I bought the pork loins used in the following recipe.
Combining apples with pork helps improve its taste and also makes the dish lighter. Apples cut into wedges with their skin on are reminiscent of potato wedges, something which children will also enjoy.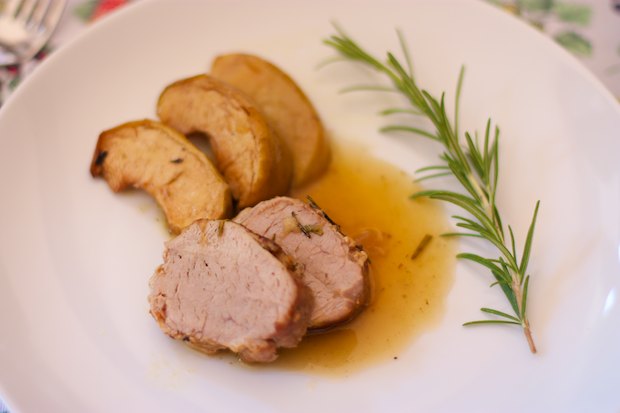 PORK TENDERLOIN WITH APPLES
(Serves 4)

Preparation time: 15 minutes | Cooking time: 90 minutes

2 pork tenderloins
1 large onion
1 garlic clove
4 apples
1 rosemary sprig
4 tablespoons extra virgin olive oil
½ cup dry white wine
salt and pepper
Preheat oven to 400°F.
Make a mixture of salt and pepper and rosemary on a plate and roll the pork loins in it, making sure the spices adhere well to the meat.
Heat the oil in a pan that can go in the oven and place the the spiced pork loins, cut onions, and garlic cloves in the pan. Sauté over high heat for 10 minutes, rotating frequently. Add the wine and let it evaporate, this should take about 5 minutes.
Put the baking dish, in which the pork loins have been placed, in the oven. Lower the temperature to 350°F.
Wash the apples and cut them into wedges leaving the skin on. After 30 minutes of baking, add the apples in the pan, trying to bathe them in the sauce that has formed in the pan. Continue cooking for another 30 minutes then turn off the oven and keep warm until ready to serve.
Cut the meat into thick slices and serve accompanied by apples and sauce.