This post is also available in: Italiano
This recipe was developed two weeks ago using two types of ricotta I bought at the supermarket out of curiosity. There were two small packages of ricotta, one sheep and the other goat. Their flavor is much stronger than cow's milk ricotta, so I thought I'd make them the principal ingredients in my quiche, while the tomatoes serve as decoration.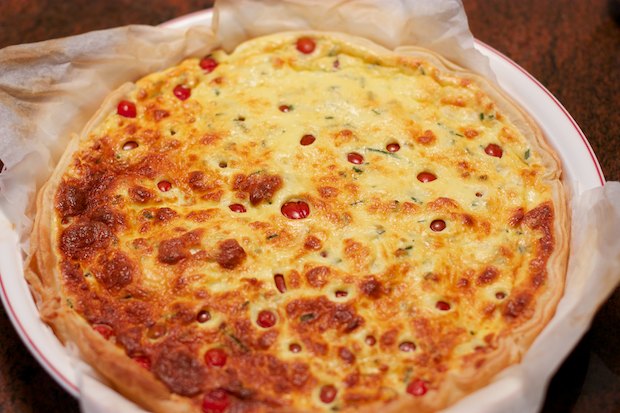 This quiche was served as an appetizer at an outdoor dinner with some relatives who came from Marche in central Italy. For the American recipe, I've suggested cow's milk ricotta, since it is more readily available.
TOMATO QUICHE
Preparation time: 20 minutes | Cooking time: 40 minutes
(For 8 people)

1 package good quality ready-made puff pastry dough
1 large mozzarella ball
4 cups whole milk ricotta cheese
3 eggs
2 tablespoons parmesan cheese
1 bunch of chives
20 grape tomatoes
salt and pepper
Preheat oven to 400°F.
Wash and dry the tomatoes, cut the mozzarella into small cubes, and chop the chives.
In a bowl, add the ricotta and mix it with a wooden spoon then add the egg yolks. Pour the egg whites into a high bowl and beat them until they are very firm with an electric whisk.
In the bowl with the ricotta, add the mozzarella, chives, parmesan cheese, salt, pepper, and whipped egg whites. (When you add the egg whites, pay careful attention to prevent them from breaking by slowly folding them into the mixture with a silicone spatula with a motion from the bottom to the top.)
Grease a spring form pan and line it with puff pastry dough. Pour in the filling and place the tomatoes here and there, taking care to leave some on the surface.
Put the quiche in the oven then turn down the temperature to 350°F and bake for 40 minutes.
Serve as an appetizer with a bit of basil oil in very small portions. If it is your principle dish, you may cut bigger slices.