This post is also available in: Italiano
This recipe represents a one plate meal, suited to be a dinner without other additions. If your family is really hungry simply increase the portion of pasta per person. In this case you will need to increase the other ingredients by ⅓. This recipe uses a typical Italian cheese called gorgonzola. If you can not find this cheese, you can use a blue cheese, every country has its own.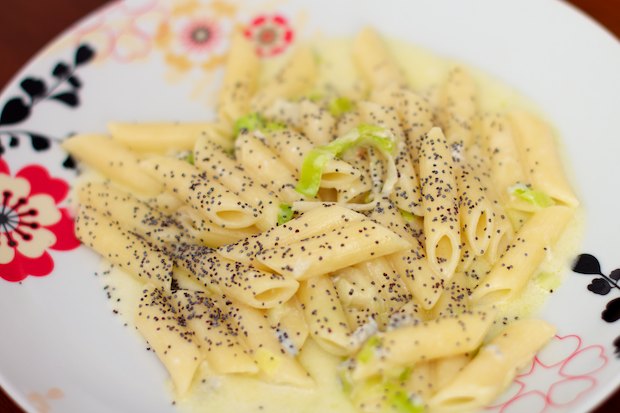 You will notice that this recipe has no oil or butter. Gorgonzola cheese is high in fat and very flavorful so you don't need to add unnecessary ingredients that simply increase the number of calories and not the flavor.
PENNE WITH GORGONZOLA
Preparation time: 15 minutes | Cooking time: Refer to pasta package for required time
(Serves 4)

1 pound penne rigate pasta
7 ounces gorgonzola
1 leek
½ tablespoon of poppy seeds
salt and pepper
Bring about a quart of water to a boil with a bit of salt. While water heats, slice the leek (white part only) very thin.
In a pan, add 4 tablespoons of water, a bit of salt, and the leek. Cook over moderate heat until the leek is tender (usually no more than 10 minutes). You can add a few tablespoons of water if the mixture looks too dry. Add the Gorgonzola in small pieces then turn off the burner.
When the water boils, add the pasta. Towards the end of cooking, take a ladle of the cooking water and pour it into the pan with the gorgonzola and leek. Stir the mixture until it forms a sauce.
Drain the pasta and pour the sauce into the pasta pot, stirring carefully so that the pasta absorbs the sauce evenly.
Serve immediately on individual plates with a sprinkling of poppy seeds.