This post is also available in: Italiano
Swordfish is the symbol of Sicily, and even though it is possible to catch it in the Atlantic Ocean, us Italians are bound to the fish that come from the sea that surrounds our peninsula. Swordfish is a fish of great size, can weigh up to 300 pounds, and is sold in slices.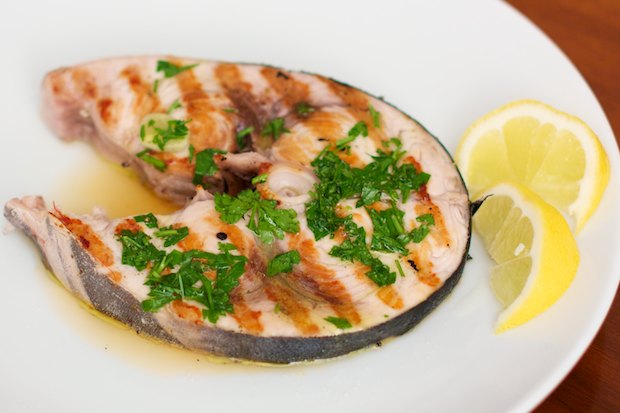 This fish never entered my kitchen, but a trip to Sicily helped me discover its qualities. Swordfish is an expensive fish, but sometimes it's nice to taste the flavor of the Mediterranean in your mouth. You can cook in different ways, but I think the best way is also the simplest one, where no ingredient covers the swordfish's natural flavor.
Swordfish, like pork tenderloin, should be cooked quickly and for a few minutes, otherwise it loses its tenderness and is not worth the money.
SWORDFISH WITH PARSLEY
Preparation: 10 minutes | Cooking time: 8 minutes
(Serves 4)

4 swordfish steaks
1 bunch of parsley
1 clove garlic
half a lemon
4 tablespoons extra virgin olive oil
salt and pepper
Wash and dry the swordfish steaks.
Heat up a non-stick pan and while you let it warm, prepare the sauce.
Finely chop the parsley and place it in a bowl with the olive oil, add the juice of half a lemon, garlic that has been cut in half, and salt and pepper. Add the swordfish steaks to the very hot pan and cook for 4 minutes on each side.
Place the steaks on individual plates and pour the parsley sauce that you have stirred with a fork for a few seconds over each slice.
Serve with a mixed salad.