This post is also available in: Italiano
Stuffed pasta is a classic in Italian cuisine. If someone in my family is willing to give me a hand, I like to make ravioli, tortellini, or other forms that inspire me on special occasions. Even though there are many recipes for homemade pasta, usually they require more time for people without everyday experience making pasta. Therefore, I thought I'd offer a recipe for a sauce to flavor the ravioli you buy pre-made at the grocery store.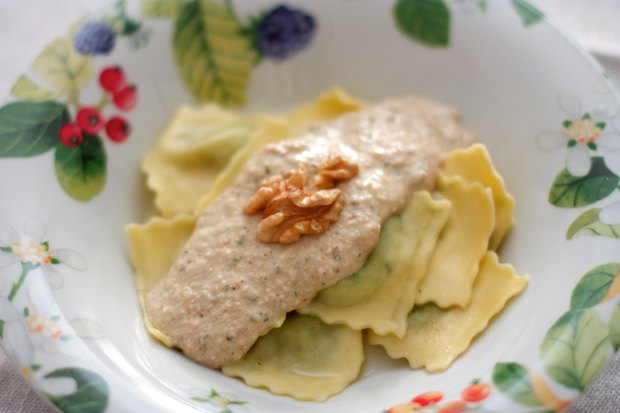 The peculiarity of this recipe is the creaminess you get from the bread and nuts. This is made without adding heavy cream. Nuts add some calories, but without cream, the fat is reduced.
The ravioli suitable for this sauce are the ones filled ricotta cheese and spinach. Before you blend all the nuts, keep half of the walnut kernels per serving because you'll use them to decorate the plate.
WALNUT SAUCE FOR RAVIOLI
Preparation time: 15 minutes | Cooking time: 5 minutes of ravioli
(Serves 4)

2 slices of stale bread
1 cup of whole milk
1 cup of walnut kernels
1 teaspoon dried marjoram
4 tablespoons extra virgin olive oil
2 tablespoons parmesan cheese
2 packages (of 2 servings each) of ricotta and spinach ravioli
salt and pepper
Soak the bread in a bowl with the milk. After a few minutes, squeeze the bread then add it to a blender with the rest of the ingredients. Add a some salt and pepper and blend to reduce the sauce.
Boil the water with some sea salt for cooking the ravioli. Follow the directions on the package for the cooking time. When the ravioli are cooked, take 4-5 tablespoons of cooking water and add it to the walnut sauce to make it less dense. This will blend better with the ravioli.
Drain the ravioli, then place them in individual bowls, adding a bit of sauce over each portion and a walnut kernel on top. Serve hot.