This post is also available in: Italiano
My brother-in-law Attilio is a skilled fisherman. He has a passion for trout fishing in the many rivers in our region. Whenever he goes fishing, he catches a lot of fish. We benefit from his passion because he always brings over extra trout from his fishing trips. We often get to enjoy fish that is "freshly caught" and not farmed. The taste is really special.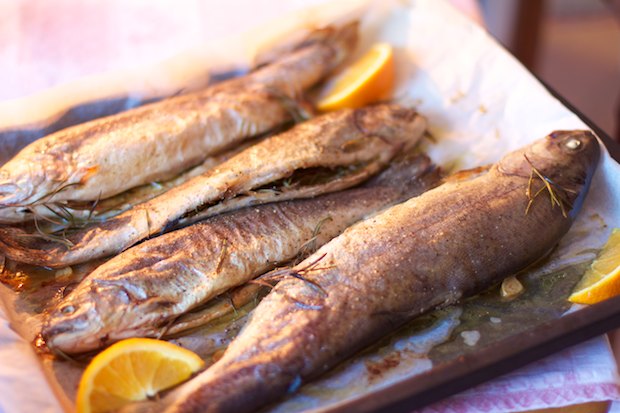 If you do not have anyone in your family with a passion for fishing, you can always go to the fish counter at your grocery store and prepare the dinner that I propose.
ROSEMARY TROUT WITH POTATOES
Preparation time: 30 minutes | Cooking time: 45 minutes
(Serves 4)

4 trout (individual serving size)
2 large potatoes
4 sprigs of rosemary
2 cloves of garlic
2 tablespoons white vinegar
½ cup white wine
2 tablespoons of butter
2 tablespoons extra virgin olive oil
1 tablespoon dried thyme
salt and pepper
Preheat oven to 400°F.

Peel the potatoes and slice them as thin as possible. Set them aside in a bowl full of cold water.

Clean the fish and stuff the belly of each fish with a spoonful of white vinegar, this improves the taste of the fish. Then rinse the fish (including the belly) and dry both the inside and outside. Insert a sprig of rosemary in the belly and a small piece of butter with a bit of salt. Place some parchment paper on top a baking sheet and then place the fish on top.

Chop the garlic and spread it on top the trout with a few pieces of remaining butter, then add salt and pepper. Pour the white wine on top.

Drain the potatoes from the water and put them in a baking dish with thyme, salt, pepper, and extra virgin olive oil. Mix everything together and place the potatoes flat so that they cook evenly. Bake the fish and the potatoes together for 45 minutes using the various shelves of the oven.
Serve on individual plates, removing the bones and the skin. Start by removing the skin from the top, remove the fillet gently with a fork and a spoon, separating it from the bones. Pick up the tail and pull out the spine, this allows you to access the second fillet. Accompany with the roasted potatoes.