This post is also available in: Italiano
When it starts to get cold and dark early, try this recipe for fish accompanied by white polenta: it will warm your heart. It's a single course and is also suitable if you have guests. The most difficult task is filleting the fish when it is cooked. If you are not experienced, you can use steamed sea bass fillets. To flavor the fish, steam it in water with the same herbs I recommend for the broth.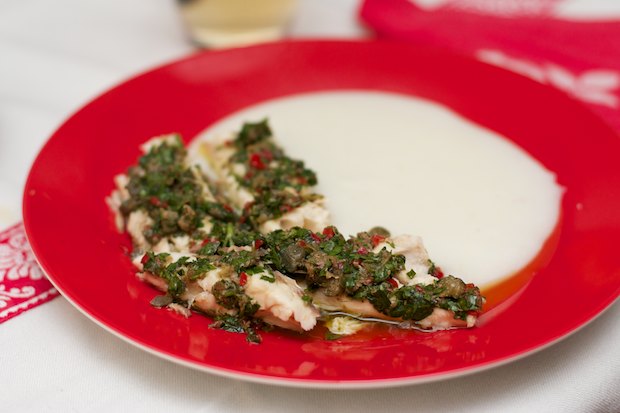 This recipe uses Bosega, a typical fish from the Adriatic. I find this fish at the fish counter of the supermarket that I regularly go to. Bosega meat is compact yet delicate and ideal for this dish. If you can not find it where you usually buy the fish, try to order it, this is the right season.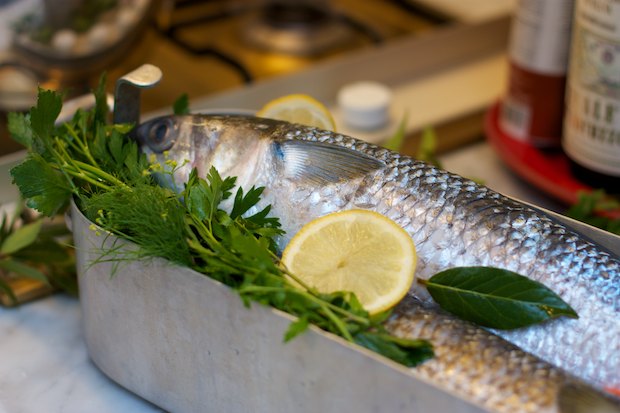 Bosega is inexpensive because it is not very well known. This fish can be replaced by sea bass as well as Vulpine, also more typical of the Mediterranean.
To learn how to fillet the fish you just have to practice. I learned a lot by paying attention to work that servers do when a good baked fish is brought to your table. If you start to compliment the work of the server, he/she will move more slowly and you will understand more easily.
FISH WITH GREEN SAUCE AND POLENTA
Preparation time: 40 minutes | Cooking time: 45 minutes
(Serves 4)

For the POLENTA:
1 box of white corn meal (to prepare, following instructions on the package)
water
salt

For the FISH:
1 bosega of approximately 2 ½ pounds (Already cleaned and scaled) or 2 pounds of sea bass fillets
1 carrot
1 onion
3 stalks of celery
1 bay leaf
2 tablespoons of vinegar
1 slice of lemon
salt
Add the herbs, vinegar, lemon and a little salt and water in a pot that holds the fish well. Allow the water to boil for 15 minutes then add the fish. Boil at a low temperature for 45 minutes. Allow the fish to cool in its water.
Meanwhile prepare the Salsa Verde:

1 bunch of parsley
4 anchovy fillets in oil
1 tablespoon of salted capers (the salt is removed by washing the capers thoroughly in cold water) or alternatively in vinegar
5 tablespoons extra virgin olive oil
Finely chop the parsley, anchovies, and capers together, then add the olive oil and mix thoroughly. Serve, adding a scoop of piping hot polenta on each plate and a piece of fish topped with the salsa verde.