This post is also available in: Italiano
"Tarte Tatin" is the classic apple pie of French cuisine. It's a simple and fast dessert, also enjoyed by people who do not love sweets. The acidity of the apple compliments the taste of the buttery puff pastry. Every now and then I vary this dessert using pears.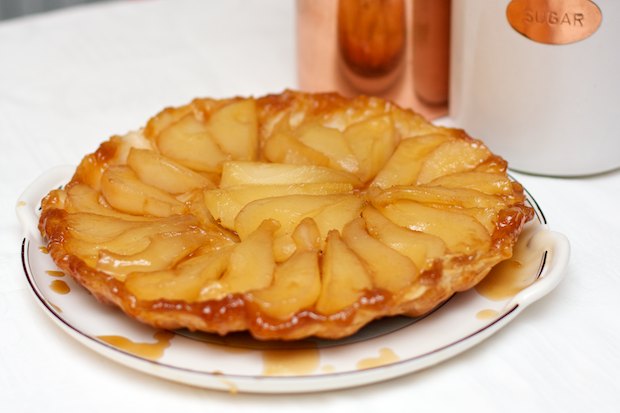 Especially when my sister Flavia comes to dinner because she really dislikes apples. Thanks to her, I created this version of "Tarte Tatin". Pears have a very different form from apples, and this diversity is evident even when cooked, but Flavia swears regularly that I hide apples in the dessert.
Tarte Tatin should be eaten warm. I suggest you prepare it before dinner and bake it as you sit at the table for dinner. It will be ready to be served by the end of the dinner.
PEAR TARTE TATIN
Preparation time: 15 minutes | Cooking time: 60 minutes
(Serves 6)

1 package puff pastry already stretched (round)
5 pears (Bosc or similar variety)
½ cup of cane sugar
½ teaspoon of cinnamon
½ tablespoon of butter for greasing the pan
Preheat oven to 325°F.
Peel the pears and cut them into six pieces each. Butter a round baking dish then sprinkle three tablespoons of sugar and cinnamon over the buttered pan. Distribute evenly. Place the slices of pear directly over the cinnamon and sugar in a radial pattern. Distribute the remaining sugar over the slices.
Open the puff pasty package and place the pastry over the pears, adhering it well to the fruit. Pierce the surface of the pastry with a fork to prevent it from swelling too much. Put in oven for 60 minutes.
When the tarte is cooked, it should be immediately turned upside down on a dessert plate because during the baking process the sugar has caramelized. Make sure you don't let the tarte cool, because it will be difficult to get it out of the baking dish. Use oven mitts so that you don't burn your hands. Place a plate over the tarte and quickly reverse the tarte onto a plate. When you lift the baking dish, tarte will look like in the one in the picture.
Serve at once.