This post is also available in: Italiano
Many people think that beans are earthy and rustic. Matched with shellfish, they become a surprising experience, something you usually only find in the dishes of great chefs. If you have the patience to prepare this recipe, you will discover a delicious and impressive dish.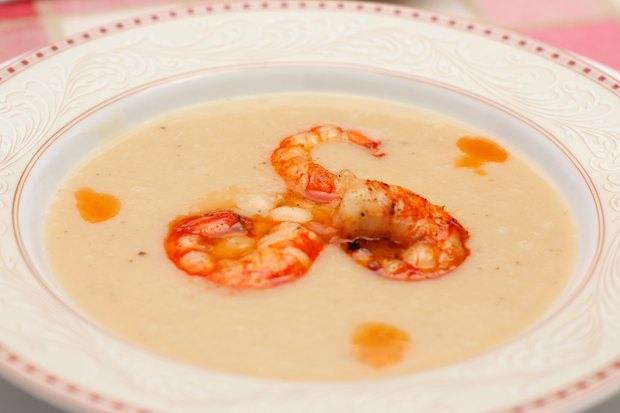 The beans that I used in this recipe are a rarity and a delicacy of Tuscany. They are called "zolfino". These beans are very small with a thin delicate skin. The water turns a golden yellow color when they boil, reminiscent of sulfur, I think this is the reason for the name. A few months ago I was given a small box of these beans.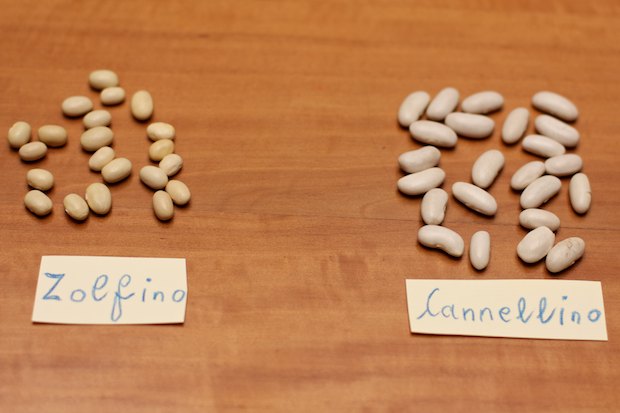 This variety can be replaced with cannellini beans, readily available in supermarkets. I added cannellini beans to the recipe ingredients, not zolfini. However, if one day you happen to be in Tuscany, you can pick up this product to take home as a souvenir.
I recommend you allow the beans to soak the night before and cook them over very low heat. The cooking takes a long time, but once you put them on the burner, you can devote your time to other business without worrying about them.
If you have a pressure cooker, it will definitely reduce the time but I cannot say by how much because it is a tool that I don't use.
CREAM OF BEAN SOUP WITH SHRIMP TAILS
Preparation time: 20 minutes | Cooking time: 150 minutes
(Serves 4)

½ pound of cannellini beans
12 jumbo shrimp
1 sprig of rosemary
4 sage leaves
1 garlic clove
1 shallot
2 tablespoons extra virgin olive oil
salt and pepper
The night before cooking, place the beans in a bowl of water. The beans will double in size overnight. The next day, rinse the beans and put them in a pot with 1 ½ quarts of water, sage, shallots. Cook over low heat for about two and a half hours.
Meanwhile prepare the shrimp. Peel and remove any black intestine trails then dry well. Heat olive oil with the garlic in a pan, and when it is hot, add the shrimp. Cook for 6 minutes, taking care to turn them after 3 minutes then season with salt and pepper.
When the beans are cooked, turn off the heat and add a little salt and rosemary, leave covered for 15 minutes. After this time, remove the rosemary and sage. Add the cooking water into a large bowl and whip it with the beans with an immersion blender. Add a little cooking water to achieve the desired consistency for the creamy bean soup.
Serve in individual bowls, first ladling in the soup, adding 3 shrimp on top, with a little sauce drizzled over the shrimp and soup. If desired, add a little freshly ground pepper.