This post is also available in: Italiano
My family has always considered fennel a vegetable that is good for your intestines and stomach. We grow at least a hundred a year in our greenhouse. We usually begin to harvest them at the end of October and will collect them up until Christmas. Fennel is prepared in various ways, but our favorite is "au gratin". This type of preparation can also be used as a side dish for a dinner with guests.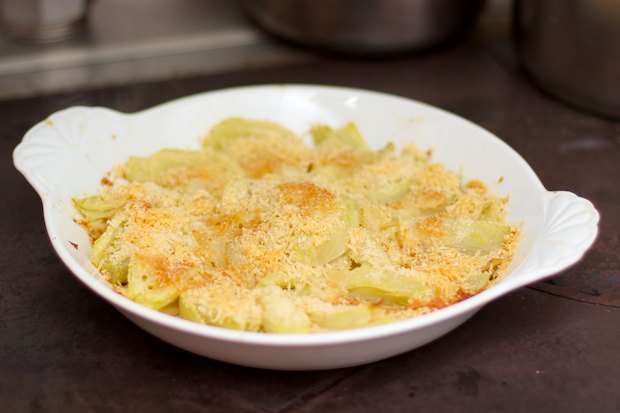 Fennel is aromatic and low in calories. Its composition is rich in fiber and water (48 calories per 100 grams) is very suitable for those who follow a strict diet. To obtain fennel's total benefits, it should be eaten raw and slightly seasoned. It is said that fennel aids nursing mothers, favoring the production of milk.
FENNEL GRATIN
Preparation time: 15 minutes | Cooking time: 40 minutes
(Serves 4)

3 medium-sized fennel
2 heaping tablespoons of parmesan cheese
1 heaping tablespoon of bread crumbs
2 large tablespoons of butter
salt
Boil 2 quarts of water with a little salt.
Preheat oven to 400°F.
Wash the fennel then cut the stems, splitting them in half, and then each half into 4-5 pieces. Rinse again.
When the water boils, add the fennel and boil for 15 minutes. After this time, turn off the burner and drain the cooking water.
Mix the cheese and breadcrumbs in a bowl.
Grease a baking dish, placing the fennel in a radial pattern, sprinkle the mixture of bread and cheese over the fennel, then using the remaining butter, add it here and there over the fennel. Bake for about 30 minutes until you see a golden crust.
Serve as an accompaniment to a meat dish or alone for a light dinner.