This post is also available in: Italiano
I've always had a passion for dessert molds. Whenever we take trips, my husband and I visit shops for the house, always curious to see what's new. The thing that fascinates me most are the molds that have the strangest designs.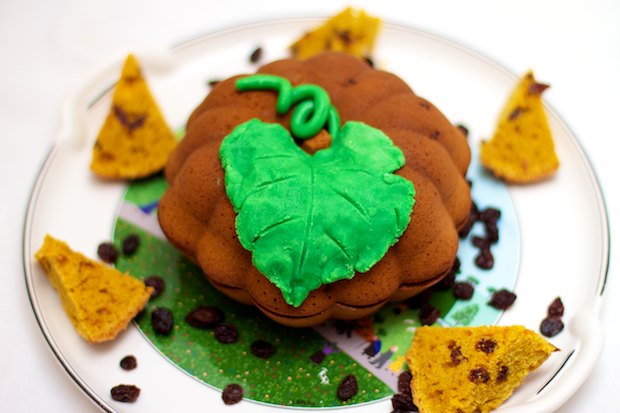 A few years ago I went to a shop in the United States and saw a special mold to make a cake shaped like a pumpkin — I could not resist. My husband and my son thought it was absurd to take a mold that was so bulky and heavy on the plane. Like a child when he sees the toy of his dreams, I didn't listen to reason and put the mold in my carry-on luggage. The metal mold triggered the metal detector in the airport and you can imagine the astonishment of the policemen when the pumpkin mold came out of my bag.
This recipe is also suitable for making muffins, to be cooked directly in muffin tins or muffin cups.
PUMPKIN MUFFINS
Preparation time: 20 minutes | Cooking time: 15-20 minutes
(Makes 12-15 muffins)

⅓ pound of reduced mashed pumpkin (I recommend steaming (you can use a sugar pumpkin or other small flavorful winter squash)
½ cup of raw cane sugar
2 ¼ cups of cornstarch
1 stick and 2 tablespoons of butter
½ cup of raisins
½ teaspoons of pumpkin pie spice
3 eggs
1 teaspoon baking powder
½ teaspoon baking soda
1 pinch of salt
Standard 12-muffin muffin tin or muffin cups
Preheat oven to 350°F.
Cut the butter into pieces and allow it to soften at room temperature. In a bowl, mix the cornstarch with the baking powder and baking soda and set aside.
Add the butter, sugar, and a pinch of salt to a bowl and mix it with an electric blender until it reduces to cream. Add one egg at a time, taking care not to add the next if the first was not mixed well. Slowly pour the mashed pumpkin, raisins, spices then slowly add the cornstarch that was mixed with the baking power and baking soda.

Thoroughly stir again then spoon the mixture into the muffin molds, taking care to fill the molds two-thirds. Place the muffin tin or cups in the oven and bake at 350°F for 15-20 minutes. The surface should be golden.