This post is also available in: Italiano
When my daughter-in-law Colleen arrived in Italy she brought some American cookbooks with her. One of her favorites is a book written by a famous New York chef, Mario Batali. While browsing through the pages of the book I found a recipe for baked apples in the pan as if they were potatoes. I immediately thought to combine it with slices of pork. The recipe that I have created is very fast and pleasant.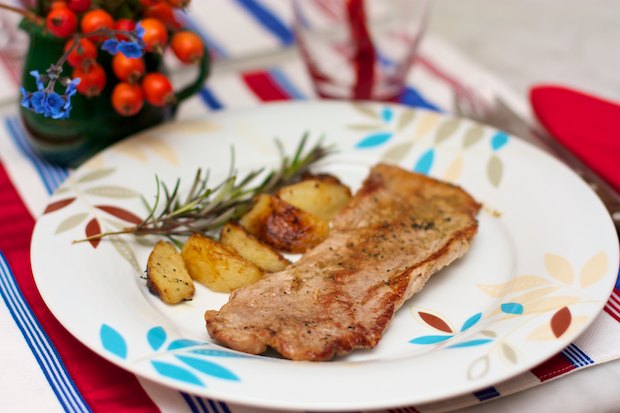 SLICED PORK WITH APPLES
Preparation time: 10 minutes | Cooking time: 28 minutes
(Serves 4)

4 slices of pork
4 small green apples
1 garlic clove
1 sprig of rosemary
4 sage leaves
3 tablespoons of butter
salt and pepper
Peel the apples and cut into wedges.
In a large nonstick skillet, melt the butter with sage, garlic, and a few leaves of rosemary. Add the apples and cook them covered for 7 minutes, turning them to brown them on both sides. Remove the apples with a slotted spoon from the pan and keep them aside in a dish.
In the cooking liquid of apples, add the slices of pork and cook over high heat for 7 minutes per side then season with salt and pepper.
Serve the slices of pork with the apples and a green salad.