This post is also available in: Italiano
This salad is a specialty of my sister Flavia. We often use it as an appetizer when we organize a meal together for many people. The dish is a triumph of the products of Friuli. The salted pork is from Sauris, Red Williams Pears from Pavia di Udine, 60-day aged Montasio cheese, walnuts from the Natisone Valley, and finally mixed salad comes from our garden when it is available.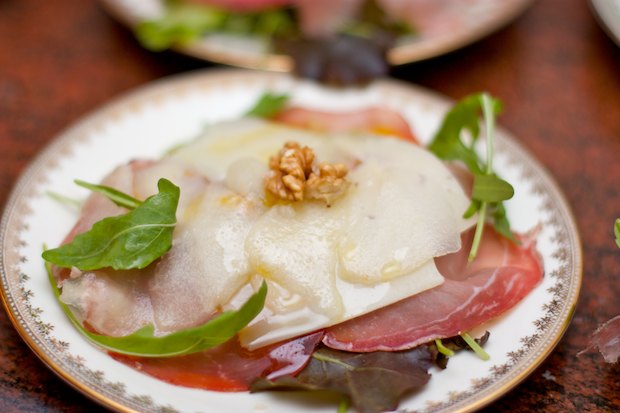 This is an effective fast recipe and can be prepared with similar products such as lean ham and a firm slightly aged cheese. You can find the pears everywhere as well as walnuts.
PROSCIUTTO AND PEAR SALAD
Preparation time: 15 minutes
(Serves 4)

1 bag or box of organic mixed salad already washed and dried
3 ½ oz. of Montasio cheese or firm slightly aged cheese
⅓ pound of prosciutto
½ cup walnuts
1 Red Bartlett Pear
½ tablespoon of balsamic vinegar
2 tablespoons extra virgin olive oil
Prepare 4 individual plates.
Arrange the salad on each plate. Over the top, cut the cheese into small flakes then make a circle of prosciutto, on top the prosciutto add very thinly sliced pear and a few chopped walnut kernels.
Emulsify the oil into a glass with vinegar and salt. Pour a tablespoon of sauce over each plate.