This post is also available in: Italiano
Pudding is a dessert that is usually used by families for children's snacks. There are many easy-to-use packets on the market that contain all the ingredients you need. Add a little milk and you're done. Other homemade recipes contain eggs and therefore result in heavier puddings.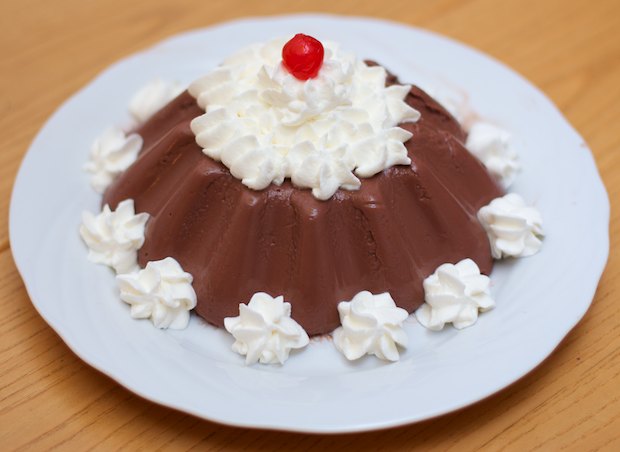 My husband really likes pudding because he didn't get a lot of sweets growing up and thought I would use simple ingredients to create a light and quality homemade pudding. It's important to use pure cocoa powder, not surrogates, purchased in supermarkets or shops that sell fair trade or organic products.
CHOCOLATE PUDDING
Chocolate Pudding
Preparation: 10 minutes | Cooking time: 5 minutes
(For 8 people)

4 cups of whole milk
⅓ cup organic fair trade certified cocoa powder
½ cup sugar
3 tablespoons raw sugar
¾ cup cornstarch
¼ teaspoon pure vanilla extract
1 pinch of cinnamon
1 cup heavy whipping cream (optional for decoration)
8 candied cherries (optional)
In a high-sided pot add all the dry ingredients and mix thoroughly.
Slowly add in the cold milk, stirring constantly with a whisk to prevent lumps.
Bring the pot to the stove and heat up stirring constantly until it reaches a boil. When it boils, reduce the heat and continue cooking, stirring constantly for 3 minutes. At this time the mixture should thicken.
Pour the pudding in 8 individual molds or one large pudding mold.
Chill it in the refrigerator for at least two hours. Garnish with whipped cream and cherries.