This post is also available in: Italiano
This creamy soup uses chestnut flour. Chestnut flour has a distinctive flavor that is enhanced by ginger. It's good way to warm up a chilly night.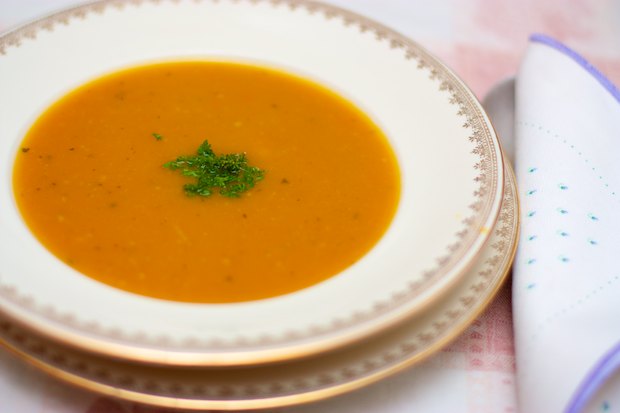 CREAM OF PUMPKIN AND CHESTNUT SOUP
Preparation time: 30 minutes | Cooking time: 60 minutes
(Serves 4)

22 oz. of pumpkin, cut into pieces (you can use a sugar pumpkin or other small flavorful winter squash)
1 small onion
4 sage leaves
1 cup of chestnut flour
1 tablespoon fresh grated ginger
2 tablespoons of organic granulated vegetable broth (such as Rapunzel Pure Organic Vegetable Soup Broth) or 1 bouillon cube
6 cups of water
2 tablespoons of butter
salt
Place the pumpkin, onion, sage and a little salt in a saucepan and cover with water. Boil for about 30 minutes on high heat.
Mix the butter and chestnut flour with your hands (see recipe Chestnut Gnocchi with Autumn Sauce).
Whisk in the pumpkin and cooking liquid with an immersion blender.
Add the ball of flour and butter to the soup and stir with a whisk.
Simmer until the soup becomes more dense.
Add the granulated vegetable broth and ginger. Stir quickly and serve very hot.