This post is also available in: Italiano
Fish soup is a dish prepared for fishermen from the remaining unsold fish. Back in the day it was considered a poor man's dish. The evolution of the kitchen has transformed soup into a sophisticated and refined dish. Each region that faces the sea has a soup that uses fish that inhabit the sea with the imagination of the cook.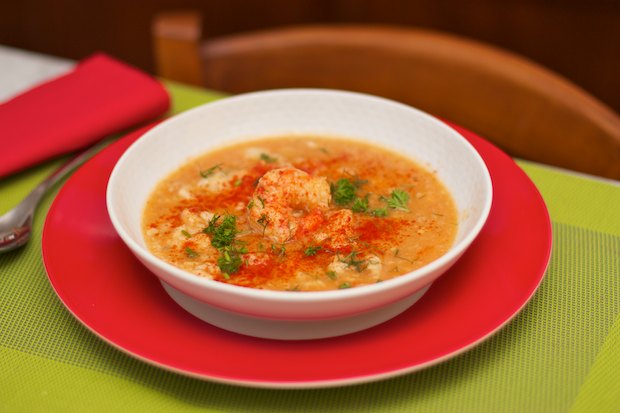 The recipe that I propose is very fast and easy to prepare. It's also useful if you have elderly or children at home.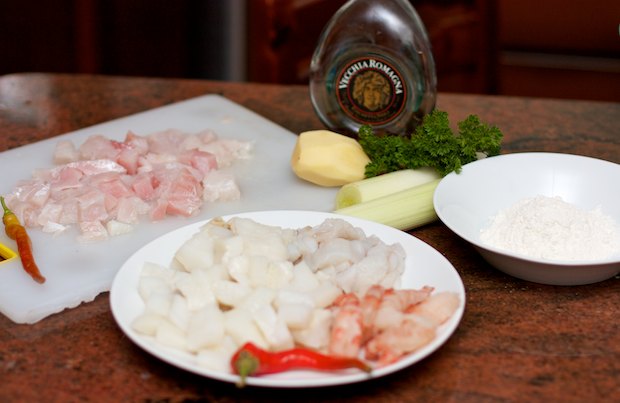 FISH SOUP WITH PAPRIKA
Preparation time: 10 minutes | Cooking time: 30 minutes
(Serves 4)

1 ½ pounds of mixed fish fillets (whatever you find at the fish counter)
1 leek
1 garlic clove
4 tablespoons of flour
2 tablespoons extra virgin olive oil
1 teaspoon sweet paprika
1 potato
4 cups of water
2 tablespoons of organic granulated vegetable broth (such as Rapunzel Pure Organic Vegetable Soup Broth) or 1 bouillon cube
2 tablespoons of cognac
1 small sweet pepper
Italian parsley
salt and pepper
Cut the fillets into cubes then pour the flour in a bowl and flour the pieces of fish.
Add the olive oil and garlic to a saucepan and when it is hot, add the fish and cook over high heat. Cook for 7 minutes, constantly moving. Remove the fish with a spatula and put aside on a plate.
Discard the garlic and sauté the leeks slowly into the cooking liquid from the fish. Sprinkle with white wine and sauté for 5 minutes.
Add cold water, paprika and granulated vegetable broth. Continue cooking for another 10 minutes.
At this point, pour in the fish broth and continue cooking over low heat for 8 minutes.
Season with salt and pepper. Serve hot with chopped parsley.