This post is also available in: Italiano
A nice piece of seared tuna is ideal for those who want to cook a quick dinner. The only drawback is that this fish is expensive, especially the part that I chose for the recipe, the fillet. This recipe treats the fish as if it were a cut of meat. This will make it easier to convince people that usually are not happy with things from the sea.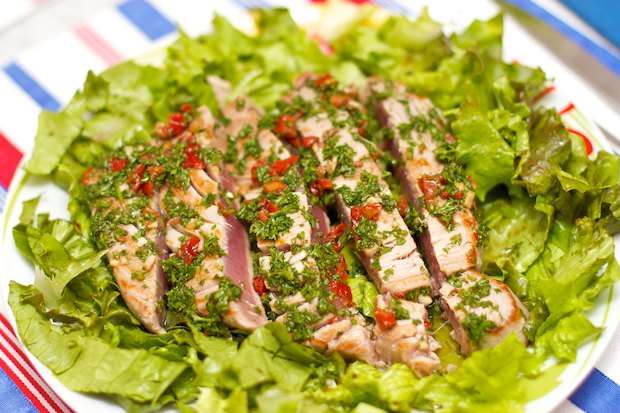 Because tuna is cooked a very short amount of time (two minutes per side) it is important to make sure that it is fresh. For peace of mind, it is better freeze it overnight and thaw it out the day you use it.
SLICED SEARED TUNA
Preparation time: 15 minutes | Cooking time: 4 minutes
(Serves 4)

4 slices of tuna fillet (about ½ pound each)
4 tablespoons extra virgin olive oil
1 tablespoons balsamic vinegar
1 garlic clove
6 sun-dried tomatoes packed in olive oil
1 head of lettuce, washed and cut into strips
1 cup of white wine
Italian parsley
salt and pepper
Wash the tuna and put the slices in a shallow dish. Cover with white wine. Marinate about 30 minutes.
MEANWHILE, PREPARE THE SAUCE:
Finely chop the garlic, parsley, and sun-dried tomatoes. Add the olive oil, salt and pepper, and emulsify with a teaspoon.
In a pan, add 1 tablespoon of olive oil and when it is hot, sear the steaks, 2 minutes per side.
Cut the steaks into strips and place them over a lettuce beds, created on individual plates. Pour a little sauce over each portion. Serve immediately.