This post is also available in: Italiano
The recipe combines the symbols of winter: good luck and prosperity lentils, cabbage, a vegetable resistant to frost of winter, and sweet winter squash. This soup is served in small portions using consommé cups, can be incorporated into an important meal, and is delicious and easy to digest. It can also be prepared one day in advance.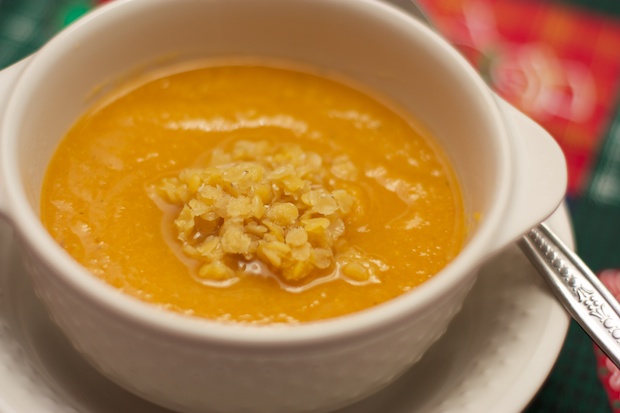 CREAM OF LENTIL SOUP
Preparation time: 15 minutes | Cooking time: 40 minutes
(Serves 4)

½ cup of red lentils
4 cups of winter squash pulp
2 cups of cabbage
1 onion
1 celery rib
1 carrot
4 sage leaves
1 sprig of rosemary
2 tablespoons Parmesan cheese
2 tablespoons extra virgin olive oil
½ tablespoon of organic granulated vegetable broth (such as Rapunzel Pure Organic Vegetable Soup Broth) or ½ bouillon cube
salt and pepper
Cut up the winter squash and cabbage into small pieces then saute the onion, celery, carrot, winter squash and cabbage in a saucepan adding salt and pepper. After a few minutes, cover with water and cook.
In a separate pot, boil the lentils with plenty of water, adding the sage leaves and rosemary. When they are soft, add a bit of vegetable stock and continue cooking for a few more minutes. Drain, retaining the cooking liquid.
In a small bowl, reserve four tablespoons of lentils then pour the remaining lentils in the pot with the vegetables and mix. To achieve a creamy consistency, add the cooking water slowly until desired consistency is achieved.
Serve in soup bowls and in the center of each dish, place a spoonful of whole lentils, then add a little grated parmesan on top.