This post is also available in: Italiano
This recipe was inventred because I wanted to make a pasticcio in no time. With its crispy crust and soft center, pasticcio is always a pleasure for the palate. The combination of Treviso radicchio and sausage is very balanced with the flavor for the spices from the sausage and the aromatic radicchio added to reduce the amount of fat.
The bechamel is vegetable based not dairy, so it's easier to digest and does not cover the flavor with the taste of milk. To make the recipe quick, I used the sheets of ready-made fresh pasta, the type that does not require pre-cooking in water.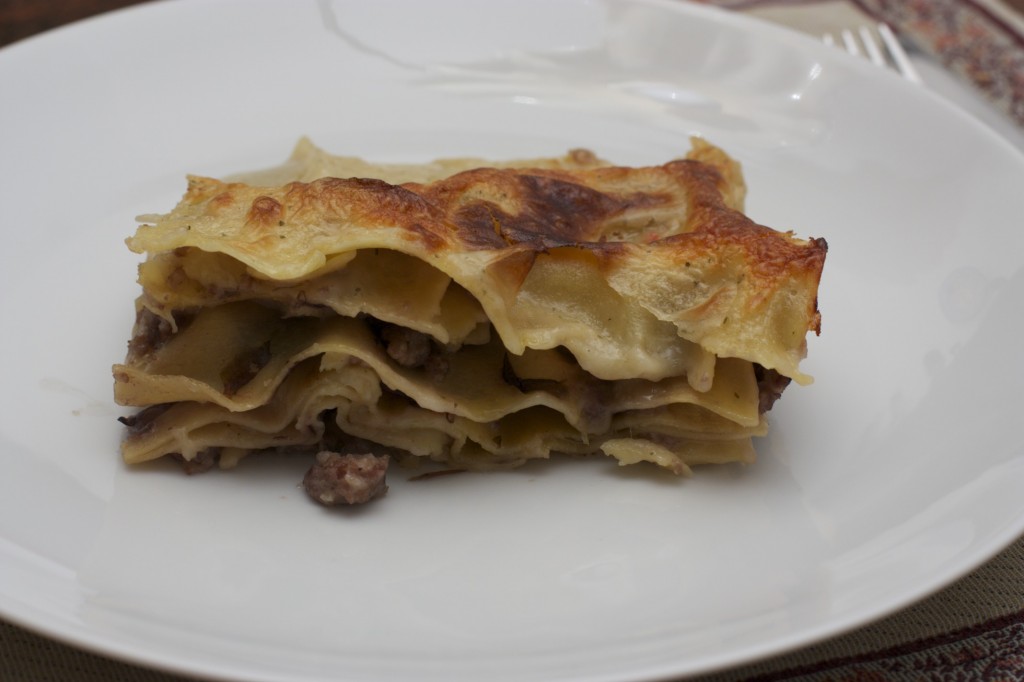 PASTICCIO DI RADICCHIO

Preparation time: 60 minutes | Cooking time: 45 minutes
(For 8 people)

5 heads of radicchio di Treviso
5 sausages
1 box of pasta for lasagna, the kind that can be cooked directly in the oven
1 glass of white wine
100 gr. flour
75 gr. of butter
3 teaspoons of organic granulated vegetable broth (such as Rapunzel Pure Organic Vegetable Soup Broth) or 1 bouillon cube
100 gr. grated Parmesan cheese
1 liter of water
Clean the radicchio and cut into small pieces. Remove skin and chop the sausages. In a large skillet put together radicchio and sausage. Turn on the stove and when it starts to saute, pour in a glass of wine. Continue cooking over high heat, stirring often for 15 minutes.
Pour the water into a pot and add the granulated vegetable stock, bring to boil.
Melt the butter in a pan and when it is melted, add the flour. Stir for a few minutes until the flour is golden brown. Slowly add the broth, stirring with a wooden spoon or a whisk. The sauce is ready when it becomes a thick cream. Add the grated Parmesan, stirring constantly. Pour half the sauce on the radicchio mixture.
In a pan add 4 tablespoons of cold water, place a layer of pastry dough, then pour a few tablespoons of the mixture of radicchio. Do this until all the ingredients are used up. Finish the sauce by pouring it on the last layer.
Cover with parchment paper that has been soaked in cold water and squeezed. Turn the oven to 400 F and bake keeping foil on top, after 30 minutes remove foil and continue baking for another 15 minutes.
Serve hot on individual plates.