This post is also available in: Italiano
I created this recipe one evening when I wanted to do an original dish, light and vegetarian, suitable for Colleen (my daughter-in-law) who does not love meat. Artichokes are part of the tradition of my family from December to April, so I try to provide this vegetable at least once a week. My mother always thought it was a good way to prevent anemia. In fact, artichokes contain iron and potassium, two elements essential to health, it helps cleansing and liver functions.
Although it is very easy to use frozen artichoke hearts, I recommend using fresh ones because the dish will gain flavor and quality. The artichokes should be firm with the leaves intact, if they are soft to the touch, it means that they are old so it's better not to buy them.
I used mushrooms for the filling to combine the two delicate flavors with the flavors of the aromatic artichoke. This dish can be used as a main dish for a light dinner or for lunch as a starter.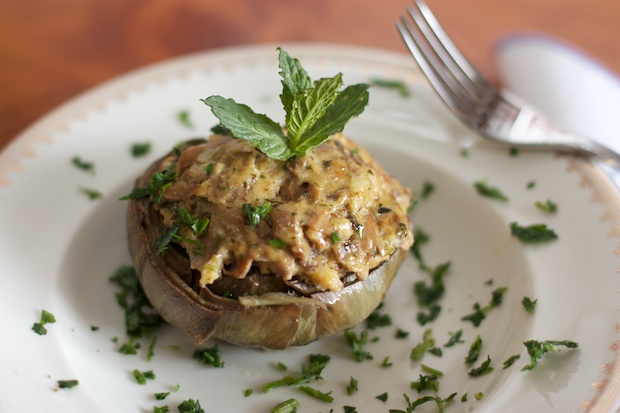 ARTICHOKES STUFFED WITH MUSHROOMS
Preparation Time: 40 minutes | Cooking time: 30 minutes (plus 15 minutes for cooking the mushrooms)
(Serves 4)

4 Roman mammole artichokes (or large artichokes)
1 pound of champignon mushrooms
2 tablespoons bread crumbs
1 heaping tablespoon of grated Parmesan cheese
1 egg
a small bunch of parsley
4 mint leaves plus 4 sprigs for decoration
2 cloves of garlic
2 tablespoons of extra virgin olive oil
1 lemon (juice)
salt and pepper
Prepare a bowl with cold water and lemon juice. Cut the stem of the artichoke, removing the tough outer leaves with a knife to cutting the ends to form a glass. Gently open the leaves and scrape with a spoon to remove the hairy fibers inside the heart. When finished place the artichoke in the lemon water and soak until it is time to fill it. Repeat for each artichoke.
Prepare another bowl with cold water and lemon. Clean the mushrooms, cut into thin slices and then add them to the bowl. Let sit for a few minutes, then rinse.
Add the mushrooms to a pan and add 1 clove of garlic that has been cut in half. Cook rapidly until their liquid has been absorbed. Season with salt and pepper.
Pour into a bowl, add the parsley and 4 chopped mint leaves, parmesan, breadcrumbs and egg. Mix thoroughly. Using a teaspoon fill the artichokes, creating a slight dome.
Align the artichokes in a saucepan. Add two cups of water and a bit of salt.
Cover with a lid and cook until the bottom of the artichoke is tender (about 30 minutes). Add the olive oil by pouring it over the filling and continue cooking until the sauce has reduced.
Serve hot on individual plates, garnish with sprigs of mint and a little parsley.