This post is also available in: Italiano
The famous chefs are always looking for more recipes that presents a research that incorporates the great importance of colors that work well together. Long ago in a cooking magazine I found this recipe that uses two ingredients in season, zucchini, peas, and red cabbage. It combines them into a set of original colors that is very pleasing to the eye. This dish works well even if there are guests. It could be combined with an appetizer of fish such as octopus salad (see recipe) and a dessert such as pineapple soup also present in this recipe. Guests will rise from the table
very satisfied.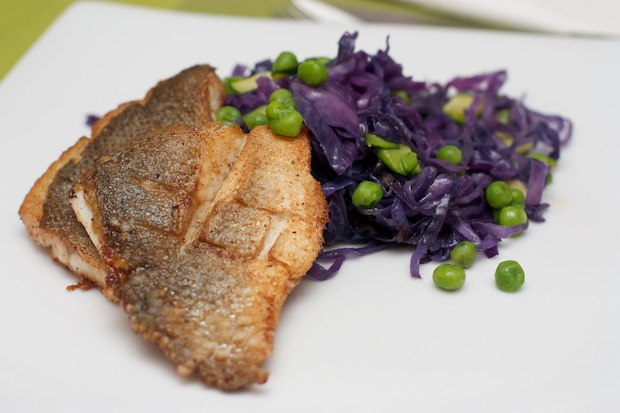 SEA BASS FILETS WITH A TOUCH OF VIOLET
Preparation time: 20 minutes | Cooking time: 30
Serves 4

4 fillets of sea bass
half of red cabbage, thinly sliced
2 small zucchini
2 cups peas
3 tablespoons extra virgin olive oil
2 tablespoons flour
2 sage leaves
1 clove of garlic
salt and pepper
Wash and thoroughly dry the sea bass fillets and coat with flour.
Cut the green of the zucchini into small cubes.
In a pan pour a tablespoon of olive oil and heat it, and when hot, add in the cubes of zucchini, sprinkle with salt and pepper. Cook on high heat for 5 minutes stirring frequently. Remove the cubes of zucchini and set aside on a plate. Add 1 tablespoon oil in a skillet, add the peas, salt and pepper. Cook over high heat for 5 minutes. Remove from the pan and pour the peas into the pot with the zucchini. In the same pan add the finely chopped cabbage and cook for 3 minutes. It should remain crisp.
Remove vegetables from the pan and mix the three vegetables together.
In a pan pour the remaining oil, the sage leaves and garlic. When it is nice and hot, sear the fillets 5-7 minutes per side depending on thickness of fillets.
Place in individual dishes with the vegetables on the bottom and the fliet resting on top. Serve immediately. If you want, you can score and flour the fillets first as you see in the picture but it is not a necessary operation.