This post is also available in: Italiano
These past few days my professional life created a bit of grief and some stress to digest. My husband thought it was best for us to go with our friends, Marcia and Fabio, to the thermal bath in Saturnia to spend a few days to soak in the splendid warm and sulphurous waters.
SPAs seem like an invention of modern times, but in reality, this acronym was coined by the ancient Romans meaning "Water For Health", in my case I went there to help my psychological health. After two days, the water washed away my negative thoughts and was able again to write this blog again.
The recipe I created in Saturnia was a soup I like to call "No Worries Soup". This is a variation of "Acquacotta Maremmana" that Mrs. Maurizia serves to her guests at the "Bianchina" in Poggio Capanne. It is a refreshing and nutritious dish and provides everything needed for a complete dinner.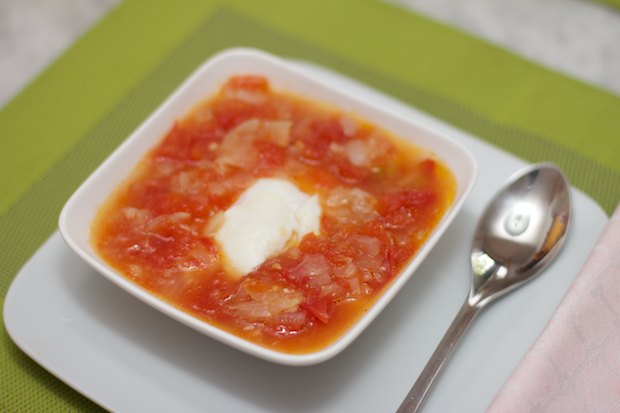 NO WORRIES SOUP
Preparation time: 30 minutes | Cooking time: 2 hours
Serves 4

2 onions
2 ½ pounds very ripe tomatoes
4 ribs of celery
2 garlic cloves
hot red pepper flakes (amount according to your tastes)
salt
2 tablespoons extra virgin olive oil
½ tablespoon of bouillon granules
4 slices of toasted country bread
4 tablespoons grated pecorino cheese
4 eggs
5 cups of water
Thinly slice the onions then add them to a saucepan with high sides. Add the clove of garlic and oil. Saute slowly.
Add the peeled and diced tomatoes, chopped celery, and the coasts.
Finally, add the tomato sauce and water.
Add a little salt and granulated vegetable broth. Boil slowly for about two hours. Add the hot red pepper flakes according to taste.
Break an egg in a ladle and lower it, keeping it in the ladle while the soup boils and and leave it in until the whites congeal, around three minutes. Remove the egg and pour it gently on a plate. Repeat for each egg.
Place a slice of bread on each bowl, add a tablespoon of grated cheese, place  a poached egg on top each bread slice and pour two ladles of soup over it. Serve hot.