This post is also available in: Italiano
One Sunday afternoon, while looking what I had in the fridge, I decided to make this cup. Since it's really fast to make, I thought I'd call it "Sprint Cup". The flavors are made up of some jars of candied fruit in syrup from the Italian brand "Toschi". The name of the dessert was also decided because it provides energy, a real sprint.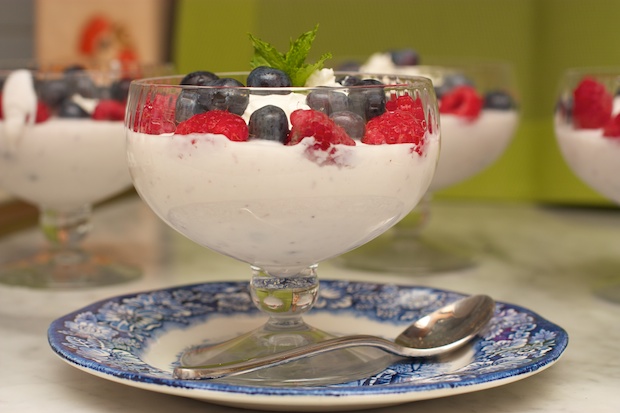 SPRINT CUP
Preparation time: 15 minutes
(Serves 6)

1 small package of whole milk greek yogurt
18 oz whole milk vanilla yogurt
14 oz of fresh cream
3 tablespoons "Toschi" blueberries in syrup
1 tablespoon "Toschi" sweetened orange zests in syrup
1 teaspoon pure vanilla extract
1 pint of fresh raspberries
1 pint of fresh blueberries
1 bunch of mint leaves
Wash the fruit.
Mix together the yogurt, syrup, candied oranges, blueberries, syrup, vanilla and 6 finely chopped mint leaves.
Whip the cream and add it to the mixed yogurt.
Pour into cups and garnish with fresh fruit and a sprig of mint. Serve cold.