This post is also available in: Italiano
This year on the occasion of my sister's birthday I decided to make dinner and bring together the whole family as well. The highlight of the meal were the pork chops, prepared with a special marinade of spices and apricot jam (made in June with the help of Colleen), that were then grilled on our wood grill. I decided to combine a light but tasty appetizer tied to the season. The puff pastry appetizers that I prepare have always been very successful.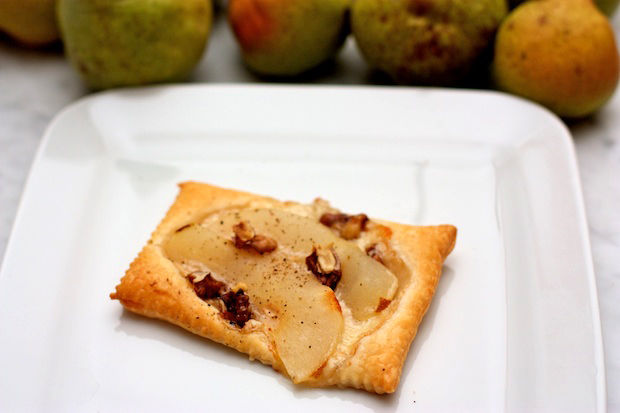 SFOGLIATINE OF GORGONZOLA AND PEARS
Preparation time: 10 minutes | Cooking time: 20 minutes
(For 8 people)

1 package of rectangular puff pastry dough
6 oz gorgonzola
2 pears
16 walnuts
black pepper
Cut the dough into 8 pieces. Poke it with a fork and moisten it slightly with a little water with the aid of a brush.
Preheat oven to 350F.
Peel the pears and cut them into 16 slices. Shell the walnuts and chop up the kernels.
Place a piece of cheese at center of each rectangle of dough. Add two slices of pear, walnut pieces, and a little black pepper.
Bake for 20 minutes. Make sure that the pastry is golden, otherwise, continue cooking for a few minutes. Serve immediately on individual plates.