This post is also available in: Italiano
Mackerel are fish that most people are familiar as fillets canned in oil, but in reality this fish is very tasty if eaten fresh. Mackerel are considered fatty fish and therefore it is used little in the daily diet of families. Finding the right way to cook it, with barely any condiments, merits the opportunity to include it in our diet, because it also has the advantage of being very inexpensive (like a whole blue fish).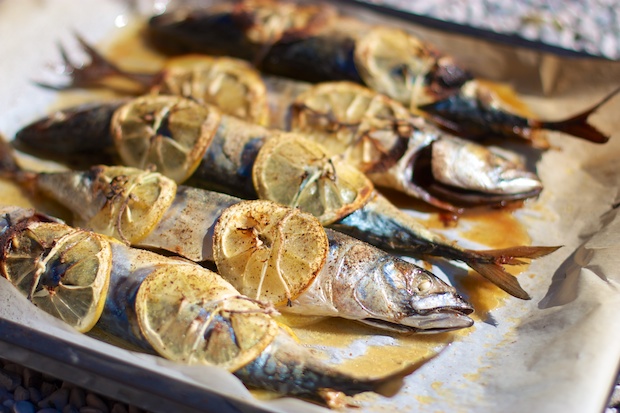 I found this recipe in a British book, I adapted it a bit with different variants that linked more to my way of interpreting the combinations of flavor. The result was very pleasant, aesthetic, and low in fat. The original recipe calls for grilling, but I had little time to prepare it so I decided to use the oven. I believe this would be delicious though if prepared on the grill.
MACKEREL WITH LEMON
Preparation time: 15 minutes | Cooking time: 40 minutes
(Serves 4)

4 medium-sized mackerel, cleaned
2 organic lemons
4 sprigs of rosemary
kitchen string
herb butter (see recipe in the "How To Make" section)
salt and pepper
Preheat oven to 400F.
Wash and dry the fish. Add a sprig of rosemary inside and a little salt.
Cover a baking tray with parchment paper.
Derive from two lemons 16 slices. Place 4 slices on top each mackerel, two on each side.
You should tie the lemon slices with kitchen string if you use the grill.
Season with salt and pepper. Bake in preheated oven for 40 minutes. When the mackerel are golden, they are ready.
Serve possibly open dotted with a small piece of herb butter on top the warm fish.