This post is also available in: Italiano
This cake is a classic of German cakes and pastries. Its fragrance and softness are a pleasure for the palate. At Christmas I have made this cake numerous times by introducing different variations. Once I used a square mold and frosted the surface with white icing (icing sugar and water) and with a little marzipan I made a bow so it looked like a wrapped gift. I believe that those who savor a slice of this cake, truly receive a gift. The recipe I found is without the shortcrust pastry that often completes the cake in the Austrian and German versions, personally I prefer that everything is soft.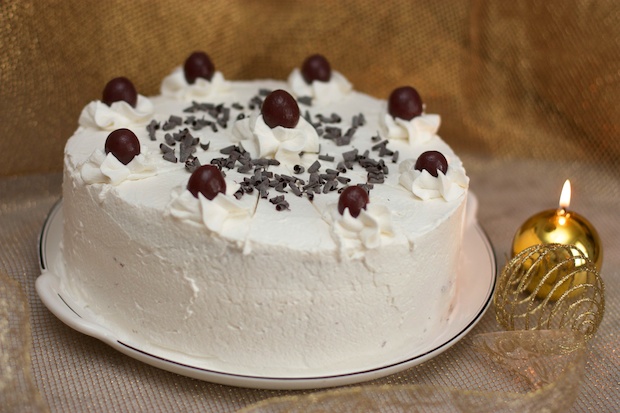 BLACK FOREST CAKE WITH CHERRIES
Preparation time: 1 hour | Cooking time: 50 minutes
(Serves 12)

For the sponge cake with chocolate:
6 egg yolks
6 egg whites
1 pinch of salt
3 tablespoons hot water
¾ cup of sugar
1 teaspoon of pure vanilla extract
½ cup potato starch
½ cup flour type 00
2 tablespoons unsweetened cocoa
a little butter for the pan
1 oz grated chocolate

For the filling:
20 oz of cherries in syrup
1 jar of cherry jam
6 tablespoons Kirsch (optional)
3 pints of heavy cream for whipping cream
2 tablespoons sugar
Beat the egg yolks with the sugar, vanilla, and hot water.
In another bowl whip the egg whites until they are very dense adding a pinch of salt. Preferably with an electric whisk.
Mix the flour with the cocoa and sift over the egg whites, stirring from top to bottom so you don't dismantle them. Then incorporate the egg cream.
Preheat oven to 350 degrees.
Grease a cake pan from the edge of opening 26 cm and pour in the mixture.
Allow to simmer for 50 minutes. Bake the cake, remove it from the mold and let it cool.
For the filling:
Divide the cake into two layers
Drain the cherries from the syrup keep it aside.
Pour the jam into a pot of steel, dilute the syrup of cherries in order to obtain a fairly liquid.
Whip the cream very firm, adding the final sugar icing and flavor with the Kirsch.
Place half of each layer of cherry jam, half the cherries in syrup (minus a few), and one-third of the cream. Place the second layer of dough and repeat the previous operation.
Use the remaining cream to smooth out the cake and decorate with whipped cream puffs, over which the cherries and place in the center of each puff the grated chocolate.