This post is also available in: Italiano
The first written recipes were created by the chefs who worked for great noble families who had a professional chef who devoted himself exclusively to cooking and had sufficient raw materials to experiment with new dishes improving the quality of food.
I found the recipe for these "kisses" in a book that collected the recipes from some noble families from Friuli. This is a very simple but the result is guaranteed. There are two very important steps that you should follow carefully if you want to be sure of the result. Number one, the butter must be very soft and and two, oven should not get hotter than 240 F.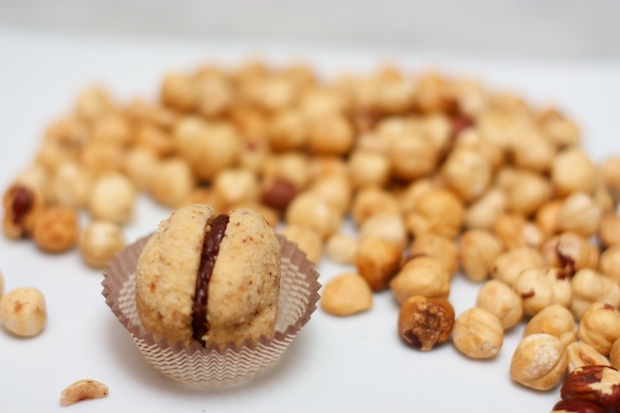 BACI DI DAMA COOKIES
Preparation time: 15 minutes | Cooking time: 40 minutes

½ pound of flour
½ pound of toasted hazelnuts
7 oz butter
1 cup of sugar
½ teaspoon of vanilla extract
3 oz of dark chocolate
paper cups for cookies
Remove the butter from the refrigerator and allow it to become very soft, almost to the point of melting.
Grind together the sugar with the nuts until you get a fine powder in a blender or food processor.
Place the flour, sugar and hazelnuts, butter, a pinch of salt and vanilla in a large bowl. Quickly knead with your hands until you get a ball. Let stand in a cool place covered with a cloth for about 30 minutes.
Line two cookies sheets with parchment paper.
Take the dough and form many small balls, as much as possible of the same size. Space them widely and evenly (during cooking tend to widen) on the cookie sheets.
Preheat oven to 240F (low heat) and cook until they become lightly browned (about 40 minutes).
Remove from oven and allow to cool.
In a saucepan with a double boiler (one pot inside another pot containing boiling water) melt the chocolate.
With a small spoon, take a small portion of the chocolate and spread it on a cookie and immediately join another cookie so as to form a kiss.
Place the cookies in the cookie cups and allow to dry.
These cookies are best after a day or two.