This post is also available in: Italiano
In the Venice bakeries is easy to peek through the window and see these cookies placed neatly in clear plastic bags with satin bow. This belongs to an ancient tradition. It seems that these cookies were packed for the king of Venice during the Easter period. These cookies are called "bussolà", which comes from the word "busa" meaning "hole" in Venetian. The distinguishing feature in these cookies is the large amount of eggs used in the dough. I found an old recipe that I've adapted, decreasing doses of sugar and eggs. The result is excellent. These cookies can also be served at the end of your meal accompanied by a sweet wine and can be stored in a tin for several days.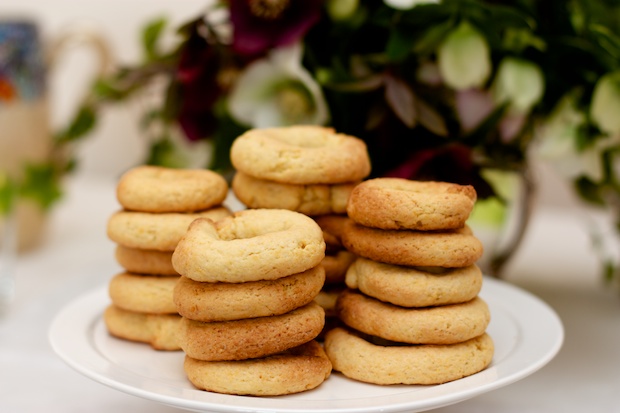 THE KING'S CIAMBELLE COOKIES
Preparation time: 20 minutes | Cooking time: 15 minutes

2 ½ pounds of flour 00 or all purpose flour
2 cups of sugar
9 egg yolks
3 sticks of butter (12 oz)
½ teaspoon vanilla
1 lemon (zest only)
salt
In a large bowl add the flour and butter that has been cut into small pieces, add a pinch of salt and vanilla extract. Mix together the flour and butter to form crumbs.
Add the sugar, grated lemon zest, then place the ingredients in a bowl and pour in all the eggs. Keep the bowl near a glass of cold water so that you can add small amounts to the mixture in case the dough is not homogeneous.
Let the dough rest wrapped in plastic wrap for 30 minutes.
Preheat oven to 400F.
Roll dough into sticks and close them in a ring shape. Spread cookies on a baking sheet lined with parchment paper. Bake in a hot oven for 15 minutes.