This post is also available in: Italiano
This soup could be ideal for Easter Day's dinner, a lightweight way to end the day after Easter lunch. The flavors are refined and this can be served even if there are guests. If you find mint, you can add a couple of leaves together with the parsley.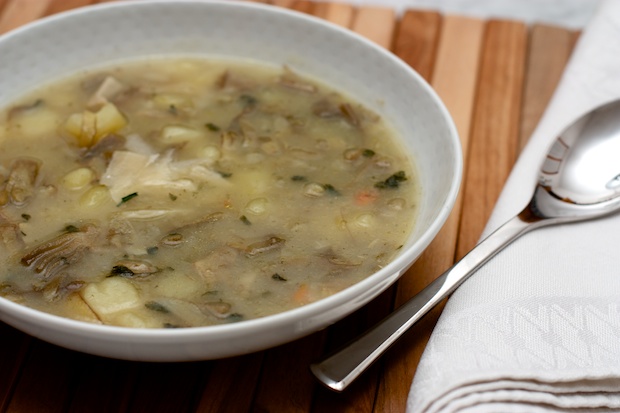 CREAMY ARTICHOKE SOUP
Preparation time: 20 minutes | Cooking time: 40 minutes
Serves 4

2 spring onions
2 large floury potatoes
2 small potatoes
4 artichokes (I used violetto artichokes)
1 small bunch of parsley
2 cloves of garlic
3 cups of the water
1 teaspoon of granulated vegetable broth
salt and pepper
2 tablespoons extra virgin olive oil
Parmesan cheese (optional)
Clean the artichokes and reduce them into thin slices (see the recipe for Raw Artichoke Salad with Flakes of Parmesan). Keep them in water with lemon.
Peel the potatoes and cut them into cubes, cut the small ones regularly and the big ones into four pieces. Keep the diced potatoes in cold water, put the large pieces in a pot with 3 cups of cold water, adding the onions and vegetable stock. Bring water to a boil and continue until the potatoes are tender.
Meanwhile, in a saute pan add the olive oil, garlic, artichokes, parsley, and salt and pepper. Cook for 10 minutes over low heat. When the potatoes are cooked, take a glass of water from the pan and keep aside.
Blend the potatoes with an immersion blender. Add the water from the glass if the cream is too thick. Put the diced potatoes in the cream, boil for 5 minutes, add the artichokes with their sauce (be careful to remove the garlic) and cook until the potato cubes are soft (about 8 minutes).
Serve the soup piping hot in bowls accompanied by parmesan cheese (optional).