This post is also available in: Italiano
Rice is an excellent accompaniment to all kinds of vegetables and helps you prepare, for a very low cost, a complete single dish that nourishes and provides great satisfaction to the palate. In my family, risotto was always on the weekly menu in all seasons. Rice provides an infinite number of variations, as many as are vegetables and the imagination of the cook. This risotto pairs together the ingredients that I found today in my garden, but that can be found throughout the summer at the grocery store. Zucchini flowers, borage flowers, and the stamens of crocus flowers (saffron) are the characteristic elements of this dish.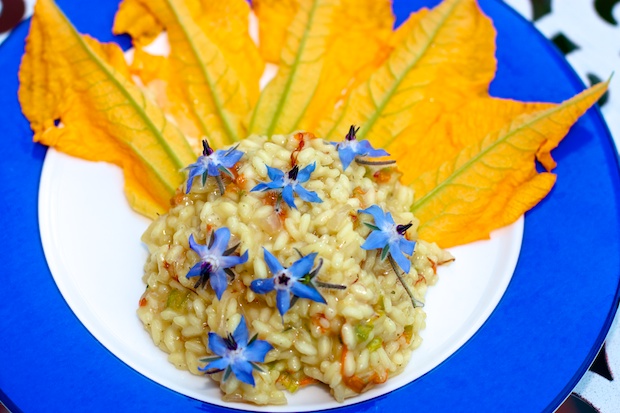 RISOTTO OF FLOWERS
Preparation time: 10 minutes | Cooking time: 20 minutes
(Serves 4)

1 1/3 cups of Carnaroli rice
10 zucchini flowers or pumpkin flowers
1 small Tropea onion or red onion
1 bunch of borage flowers
½ teaspoon saffron
1 cup of prosecco
4 cup of boiling water
4 tablespoons Parmesan cheese
2 tablespoons extra virgin olive oil
2 teaspoons of vegetable bouillon granules
2 tablespoons of butter
Remove the stem and pistil from the zucchini flowers, wash them gently and place them on a paper towel.
Cut the onion very thinly and saute it with olive oil in a pan. After a few minutes add 2 tablespoons of wine and let it evaporate.
Add the rice to the pan, stir with a wooden spoon and let toast for a few minutes, stirring constantly. Slowly add the wine and when it is absorbed pour in the bouillon granules, saffron, and continue cooking, adding a ladle of boiling water each time it is absorbed by the rice.
Continue cooking, stirring constantly with a wooden spoon for 18 minutes in total since the rice was added to the pan. After this time, add the zucchini flowers that have been cut into strips, turn off the heat and add the butter and Parmesan cheese. Allow to sit for two minutes.
Arrange on individual plates sprinkled with borage flowers.