This post is also available in: Italiano
In the gray November days it is easy to get melancholy. The color orange can help us get into a good mood. This recipe, which can be a main dish, is rich in beta-carotene and uses an Asian spice, turmeric, which is very good for your health and mood.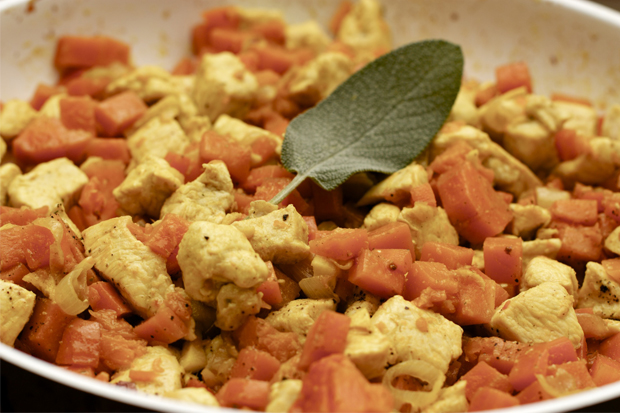 Morsels of Love
Preparation time: 30 minutes | Cooking time: 35 minutes
For 6 people

3 shallots
2 pounds of chicken breast
1 pound of carrots
1 pound of cleaned pumpkin
1 tablespoon of fresh ginger
1 teaspoon turmeric
1 ½ cups dry white wine
1 teaspoon vegetable broth granules
3 sage leaves
1 sprig of lemon balm
2 tablespoons of extra virgin olive oil
salt and pepper
Cut the chicken breast into small cubes. Cut the pumpkin and carrots in the same way. Thinly slice the shallot.
In a large nonstick skillet or wok, add the oil, sage leaves and lemon balm. Heat the sauce and when it is hot, drop in the chicken cubes, cook over high heat for 8 minutes, stirring frequently, season with salt and pepper.
Remove the chicken cubes with a slotted spoon and keep aside in a plate.
In the cooking liquid, add in the carrots and pumpkin.
Bring to a boil, pour in the wine and let it evaporate for a few minutes over high heat. Pour in the broth granules, stir a little and lowering the temperature and continue cooking for 15 minutes, covering the pan with a lid. Stir occasionally, salt to taste. The vegetables should remain firm.
Add back in the chicken, turmeric dissolved in a little water, and finely chopped ginger. Stir quickly, cook for 2 minutes. Turn off the heat and cover the pan to let the whole dish season a few more minutes. Serve hot.