This post is also available in: Italiano
This recipe was created by my sister Flavia last Christmas and the whole family loved it. For the traditional components of passatelli, a classic regional cuisine of Emilia-Romagna, she added two typical ingredients of winter, pumpkin and horseradish. These ingredients lighten the dish. For optimum results you must use a good stock, possibly turkey, but it will be just as tasty with a vegetable broth.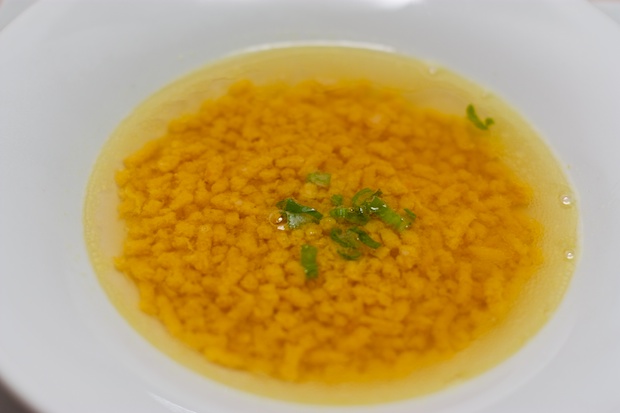 PUMPKIN PASSATELLI WITH HORSERADISH
Preparation time: 15 minutes | Cooking 10-15 seconds
(Serves 4)

4 oz of steamed pumpkin
3 oz of breadcrumbs
3 oz of Parmesan cheese
2 eggs
Fresh horseradish (grated)
1 tablespoon flour
1 grated nutmeg
chives (a few)
Broth
Cook the steamed pumpkin.
Press the pumpkin through a ricer and mix all ingredients together. The composition must be fairly consistent to the point where you can easily form a ball. Let the mixture rest at least one hour. (It can also be prepared the day before use by leaving it in the fridge).
Heat the broth and when it reaches a boil, use the ricer to press the dough and make the passatelli fall into the broth, taking care to cut them with a pair of scissors so that it may form short passatelli.
After 10-15 seconds of boiling, the passatelli are ready.