This post is also available in: Italiano
Semolina gnocchi entered my family menu when Andrea (my son) was two years old. Andrea, as I was able to tell, it was absolutely uninterested in food, he used all his energy towards games. I always had to invent something that seemed like a game. The gnocchi were also an opportunity for me to understand that he was developing an aesthetic eye that was revealed when he became older.
The preparation is very simple, but you some leftover dough remains from the cutout circles. To get help from Andrea, I used to put one of my aprons around him and he would climb up on the chair and help me make the gnocchi by cutting out the circles from the plastic stamp.
One day, after preparing a wreath of gnocchi, I told him to try to fix the leftover trimmings in the center and I walked away from the table. After a while, he called me in with his finger (at that time he only knew a few words) and showed me what he had done. To my surprise he had moved all the trimmings into the pan with harmony in an arrangement that I would not have been able to do. Of course I praised a it a lot. That day he ate his portion of gnocchi without stories and from that moment was one of his favorite dishes.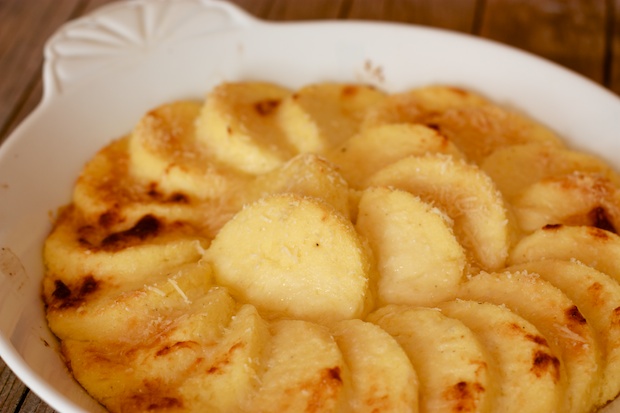 ROMAN-STYLE GNOCCHI
Preparation time: 30 minutes | Cooking time: 20 minutes plus 20 minutes in the oven
(For 8 people)

4 cups of milk
4 cups of water
13 oz semolina flour
5 oz Parmesan
1 1/2 oz of butter
2 egg yolks
salt
Combine the milk in a saucepan with the water.
Add a little salt and bring to a boil.
Pour in (add the semolina flour in small amounts with a closed fist, slowly open your fingers dropping the flour as if it were raining), stirring constantly with a wooden spoon. When it has reached a certain density, lower the heat and continue cooking, stirring constantly for 15 minutes.
Turn off the burner and let it cool. Add two egg yolks and 5 oz of parmesan. Mix, spread the mixture on a marble slab and spread leveling them with a wet knife to a thickness of 1 cm. Cut the mixture in small circles with a liqueur glass.
Grease a baking dish with a little butter. Place the circles overlapping one other.
Sprinkle the grated cheese over the gnocchi and butter that has been cut into flakes.
Brown in oven at 350 F degrees for about 20 minutes.
Serve hot.