This post is also available in: Italiano
In this recipe I have tried to bring together the elements of spring – white and green asparagus, peas, spring onions, and fresh ricotta. This dish is a bit laborious, suitable for an important meal or when you want to pamper your family.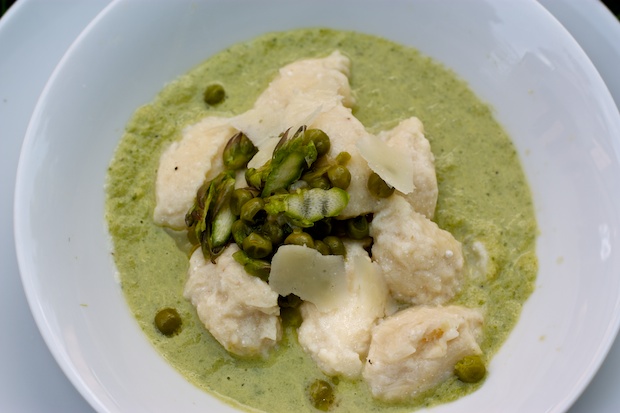 SPRING GNOCCHI

Preparation time: 1 hour | Cooking time: 1 hour (sum of the different phases)
(For 8 people)

1 ½ pounds of ricotta
1 ½ pounds of white asparagus (this weight must remain after trimming, purchase around 2 pounds)
1 ½ pounds of green asparagus
4 oz of frozen peas
4 white onions
½ cup of rice flour
1 cup of Parmesan cheese
2 oz of butter
1 egg
2 tablespoons extra virgin olive oil
parmesan flakes for decoration (optional)
Slice the onions thinly and arrange them in two pans with a tablespoon of olive oil per serving.
Clean the white asparagus, removing all the hard parts and filaments. Cut into thin slices and add them to the pan with the onions, salt and pepper. Simmer with the lid on for 30 minutes, adding a few tablespoons of water if necessary.
The asparagus are cooked when they become mushy. They should be thoroughly dry in the final cooking process, so keep the lid off the pot and continue cooking until the liquid evaporates. Place the asparagus on a plate and allow to cool.
Clean the green asparagus, remove the hard parts, chop the stem, leaving the tips whole.
Heat up the pan with the onion previously cooked, add the asparagus, keeping aside the tips, salt and pepper. Cook for 15 minutes, then introduce the asparagus tips and cook 7 minutes more. Turn off the heat and add the butter.
Boil peas in salted water for 8 minutes. Drain and pour into the saucepan with the green asparagus. Remove the tips and some peas and place them in a saucer, will be used for decoration.
Blend this mixture with an immersion blender.
Mix the ricotta with the egg and parmesan cheese, add the asparagus and white rice flour.
Boil in a pot of water high and wide with a bit of salt. When it boils, with the aid of two spoons, form the gnocchi and add them to the boiling water (introduce 8-10 at a time). Lower the heat. When the gnocchi come to the surface, remove them with a slotted spoon and place on a baking dish that will keep you warm over a pot of boiling water. When all the gnocchi are cooked, serve on individual plates by placing in each dish a cream base and green above 5 gnocchi, garnish with asparagus tips and some pea, if you want to add a few shavings of parmesan cheese.