For my generation, California is a mythical place and a symbol of freedom. On August 23, 2013 I had the opportunity to take the trip I had always thought about with my husband.
This is a travel story that has food as its theme. The first day after we had a lot of time after we arrived thanks to the 9 hours time difference less than in Italy. We settled into the hotel and after we picked up our rental car, we had the whole afternoon ahead of us.
The first trip was out to Venice Beach, one of the famous beaches of Los Angeles. The very large beach of fine sand and as usual in the U.S. without sun beds and umbrellas, which makes the feeling of freedom more alive.
The chaotic and popular pedestrian promenade was lined with tourist shops and pharmacies that sold "medical marijuana". In this chaos a little restaurant named "Venice Ale House" materialized before our eyes. It was all made of wood and full of young people shouting that advertised natural and organic products.
We sat down and savored a natural drink made ​​from ginger root and a burger accompanied by a particularly delicious salad and dips.
The first part of our journey was characterized by this typical product of fast food restaurants in some of California was transformed into quality product for the search of raw materials and cooking.
The second experience in this regard was the restaurant "Eveleigh" on Sunset Boulevard between Hollywood and Beverly Hills. The day was very hot and when we walked through the entrance of the place that reminded me of a pergola of a cool garden, we entered without worrying about the signaling guides.
The interior appeared intimate and familiar, with structures in old wood and fabric chairs excellent experienced and welcoming. The sandwich was excellent the meat was very fragrant. We had a nice meal that satisfied us also until dinner.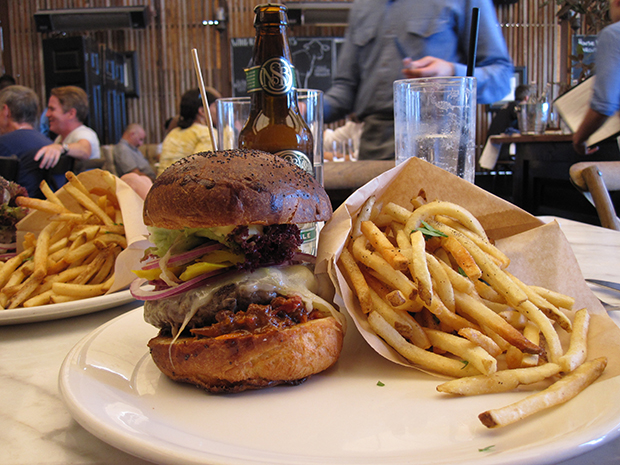 Continue >>>