This post is also available in: Italiano
Spinach and eggs are good for your health, but sometimes it's hard to find fans of these two simple and important ingredients. Many years ago, when I was trying to entice my son to eat them, I invented these nests. I found some nice ceramic soup pots (which you see in the picture) suitable for using in the oven.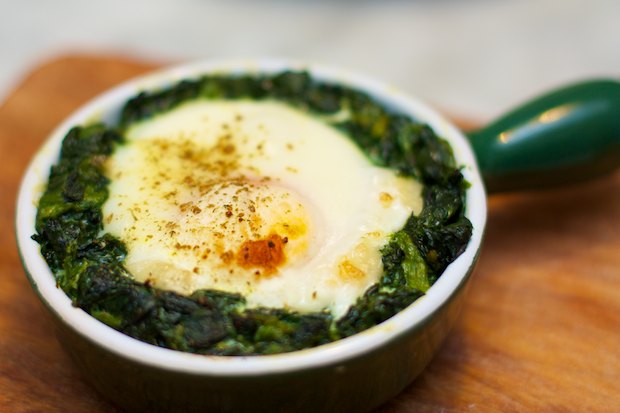 With the excuse of the nests and the fact that you could see the yolk hiding behind a white veil, my son wanted to eat this dish.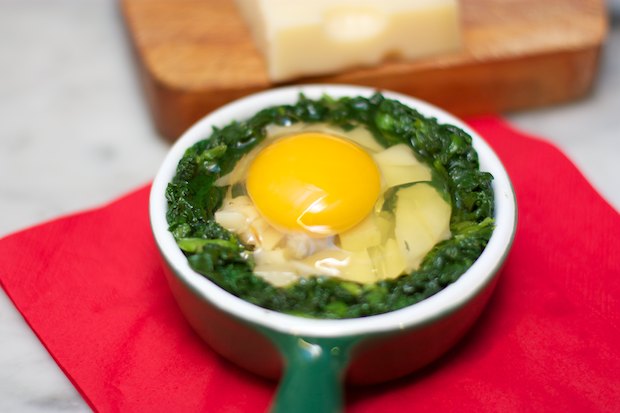 Sometimes I still like to propose this as a simple dinner. In one small pot you have all that is needed for a complete meal. To make this dish fast, you should use frozen cubed spinach, (three cubes per person will suffice). If you have a bag in the freezer, you can use them anytime you need them.
EGG AND SPINACH NESTS
Preparation time: 30 minutes | Cooking time: 15 minutes
(Serves 4)

12 cubes of frozen spinach
7 oz. of Emmental cheese
4 eggs
2 tablespoons extra virgin olive oil
1 garlic clove
salt and pepper
Preheat oven to 400°F.
Thaw the spinach cubes according to the written instructions on the package. Drain the cooking water and add olive oil and the garlic to a pan. When it is hot, add the spinach, salt, and pepper.
Lightly sauté for 5-6 minutes on high heat. Turn off the heat and place the spinach in individual soup pots making a hole in the center.
Divide the cheese into 4 pieces and grate on top each hole. Break the egg over the cheese, salt, and bake for about 15 minutes. You'll know it's cooked when the egg turns white.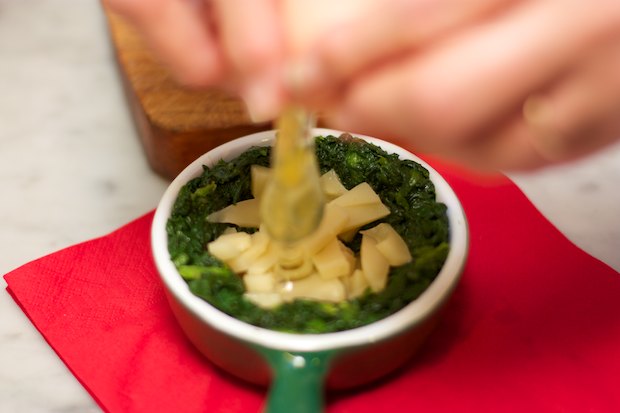 Serve carefully because the molds will be hot.