This post is also available in: Italiano
I tried this rice many years ago while camping with my classmate Carla. I was struck by the simplicity of its execution and its deliciousness. Carla said, "This is a typical dish suitable for camping and for those who do not want to cook like me!" I make it often in the summer and every time I taste it I remember that first bite.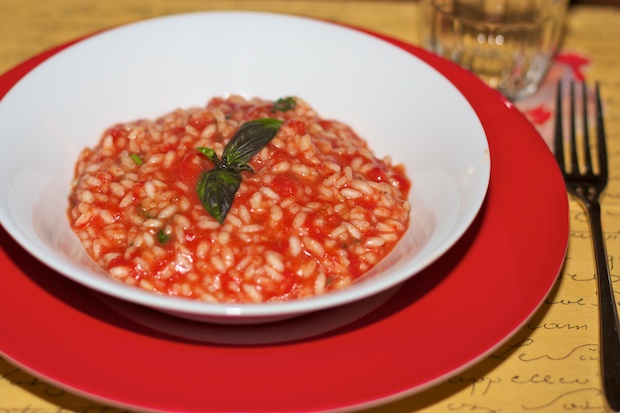 TOMATO RISOTTO
Preparation time: 5 minutes | Cooking time: 40 minutes
(Serves 4)

9 oz Carnaroli rice
4 tomatoes ripe and fleshy
2 cloves of garlic
4 basil leaves
2 tablespoons of Parmesan cheese
1 tablespoons extra virgin olive oil or butter
1 teaspoon granulated vegetable bouillon
Salt and pepper
Bring a pot of water to a boil with 3/4 of a liter of water.
In a saucepan, add the garlic, washed tomato (skin removed and cut into pieces). Add a little salt and cook the tomatoes for 20 minutes.
Add the rice, stir and let it absorb all the liquid from the tomatoes. Then pour in the water slowly being careful only to add enough water when the previous one has been well absorbed. Add the broth granules. After 20 minutes the rice is ready. Season with salt and pepper.