This post is also available in: Italiano
The other day Andrea came home with the largest ziplock bag of green tomatoes I have ever seen. They were left over from the office garden that his boss lovingly attended all summer long when no one else was there due to Covid. My eyes lit up – you can ask anyone that knows me that I will never throw anything out & love it when I get extra vegetables from people's gardens, it gives me a change to be creative and experiment in the kitchen! I thought about all the things I had always heard about doing with green tomatoes and decided to try 2 of them – fried and pickled.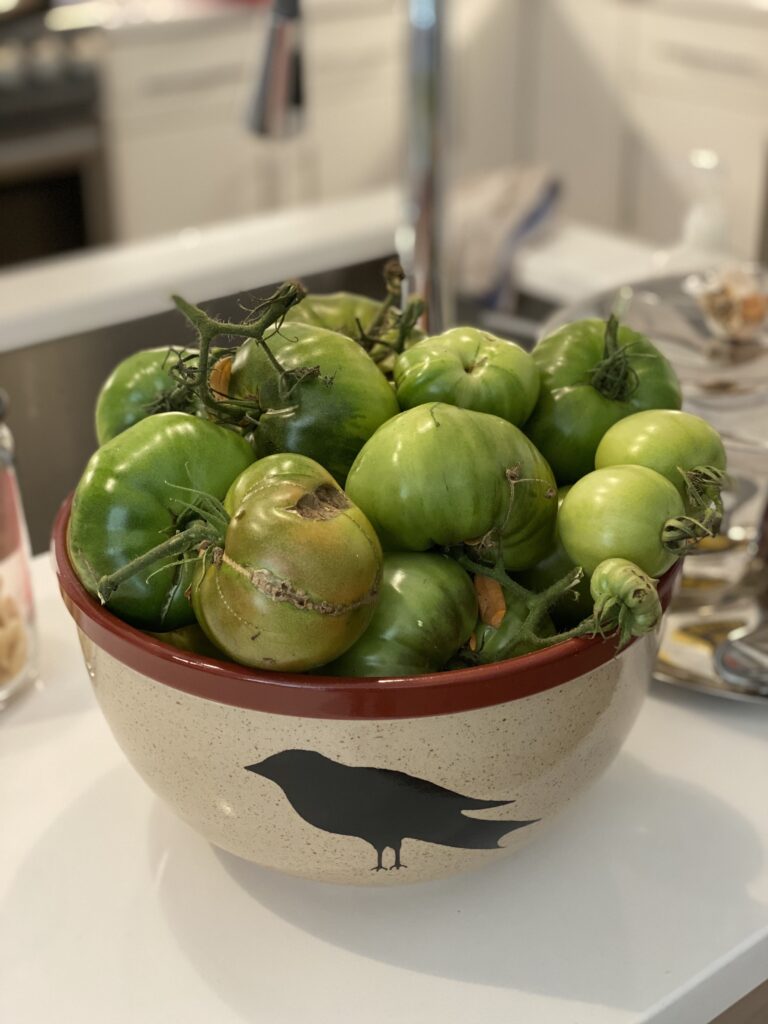 I had been using some pickled tomatoes my friend Letitia got me from the free farmers market in Salem on my breakfast tacos, it gave them that extra acid you need nestled beside greasy eggs & cheese—I knew that had to be one of the recipes. I decided to experiment with what I had (my usual style of cooking and inventing recipes) which was a lot of apple cider vinegar and bourbon – hey – part of my family is from Kentucky, it's my roots, so I always have it on hand. Andrea said they were quite amazing on his tuna melt as well.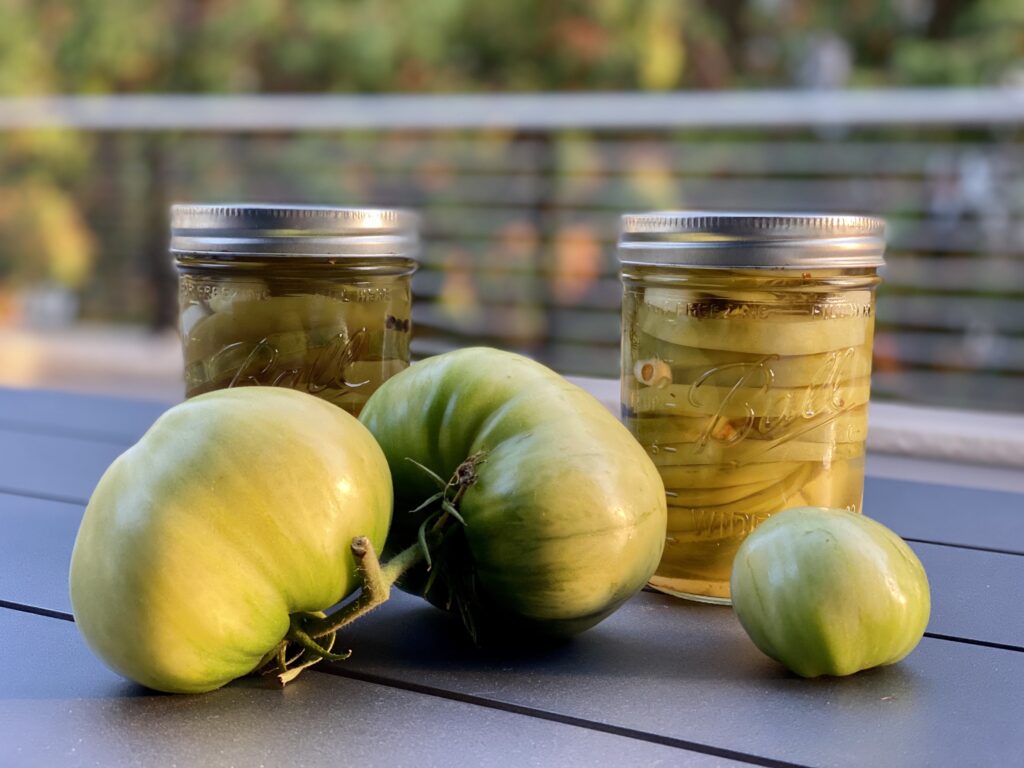 Fried green tomatoes are an American staple in the south and I've always been obsessed with anything involving cornmeal so that had to be the second recipe. I've been using my Weber with the side burner to fry things outdoors all summer long. No mess in the kitchen and outdoor/indoor living which I love. In the spirit of using what I had, I didn't have American cornmeal flour and had some yellow Italian yellow polenta flour which I substituted instead, they turned out so addictively crunchy.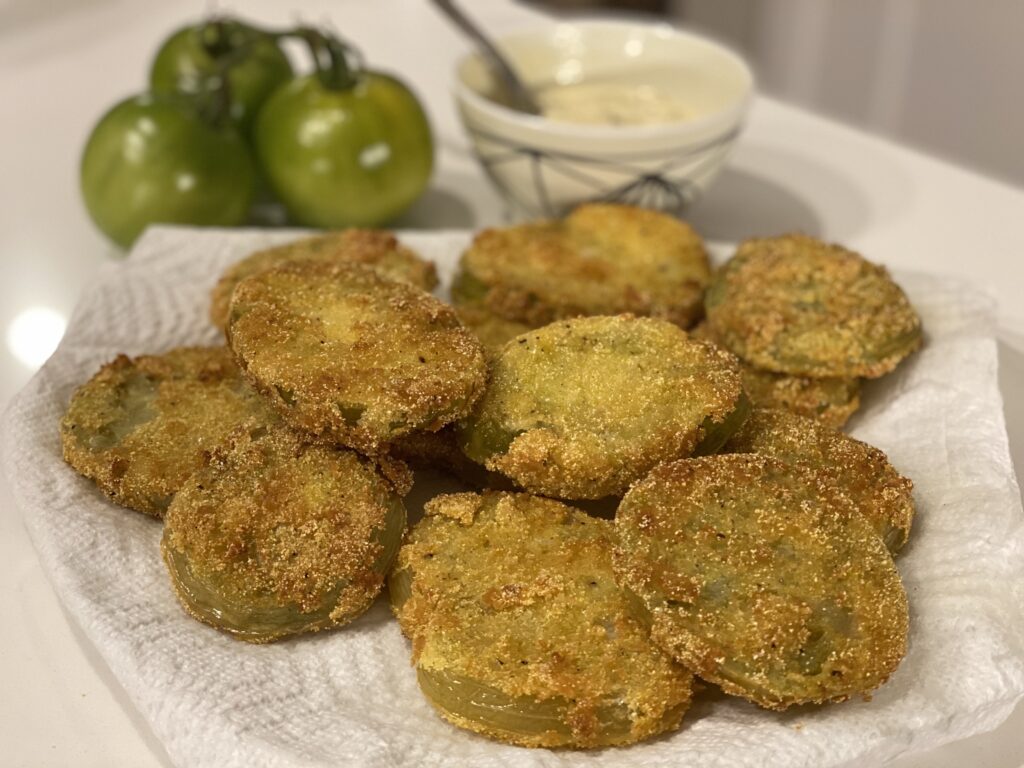 Green Tomatoes Two Ways, Fried & Pickled
Course: Appetizers
Ingredients
Pickled Green Tomatoes

2 pounds green tomatoes (about 6 medium)

2 garlic cloves, sliced

Fresh dill

2 cups apple cider vinegar

2 cups water

2 tablespoons salt

2 tablespoons sugar

1 tablespoon whole black peppercorns

1/2 teaspoon red pepper flakes

2 tablespoons bourbon

Fried Green Tomatoes

4 large green tomatoes

2 large eggs

½ cup whole milk

1 cup all-purpose flour

½ cup yellow polenta flour (or cornmeal)

½ cup panko bread crumbs

2 teaspoons sea salt

¼ teaspoon ground black pepper

1 quart sunflower oil for frying

A Sort of Remoulade Sauce for the Fried Green Tomatoes

3 tablespoons Sir Kensington Mayo

2 large sweet hot pickles diced

Dash of habanero hot sauce
Directions
Pickled Green Tomatoes
Slice tomatoes, either into 1/4-inch thick slices or thinner if you would like. Divide tomatoes among 3 pint jars, packing the tomatoes tightly in each jar. Place a few slices of garlic and a few fronds of dill in each jar.
In a small saucepan, combine vinegar, water, salt, sugar, peppercorns, and red pepper flakes. Bring to a simmer until sugar is completely dissolved. Remove from heat and add bourbon.
Pour brine over pickles, filling jars to within 1/4 inch of the top. Make sure all of the tomatoes are fully submerged. If they start to 'float', wedge a few more tomato pieces in there to keep them firmly packed.
Screw on jar lids and refrigerate for at least 3 days to allow pickles to fully pickle, and after that pickles will keep in the refrigerator for up to 2 weeks.
Fried Green Tomatoes
Slice tomatoes 1/2 inch thick. Discard the ends.


Whisk eggs and milk together in a medium-size bowl. Scoop flour onto a plate. Mix cornmeal, bread crumbs and salt and pepper on another plate. Dip tomatoes into flour to coat. Then dip the tomatoes into milk and egg mixture. Dredge in breadcrumbs to completely coat.
In a large skillet, pour sunflower oil (enough so that there is 1/2 inch of oil in the pan) and heat over a medium heat. Place tomatoes into the frying pan in batches of 4 or 5, depending on the size of your skillet. Do not crowd the tomatoes, they should not touch each other. When the tomatoes are browned, flip and fry them on the other side. Drain them on paper towels.
Recipe Video