This post is also available in: Italiano

In my family, up until the 1980s, it was a tradition to start the new year with a menu that included an appetizer with boiled corned beef tongue and Russian salad, followed by tortellini in broth and boiled meat with mustard.
The Russian salad was rigorously prepared at home, possibly with fresh or canned vegetables such as peas. The mayonnaise was made with eggs from the chicken coop.
It was considered a special dish to be reserved for this occasion, for weddings, baptisms, communions and confirmations.
This year my sister-in-law Michela who loves this preparation very much asked me to prepare it as it used to be. We find Russian salad in all supermarkets and all year round but she liked the idea of ​​tasting it in its home version.
I hadn't prepared it for a long time and so I asked my aunt Rita for help with the mayonnaise she prepares very well.
The recipe does not describe the making of mayonnaise because without the collaboration of Aunt Rita I would have used a good ready-made mayonnaise.
Here is my Russian salad from the first day of the year.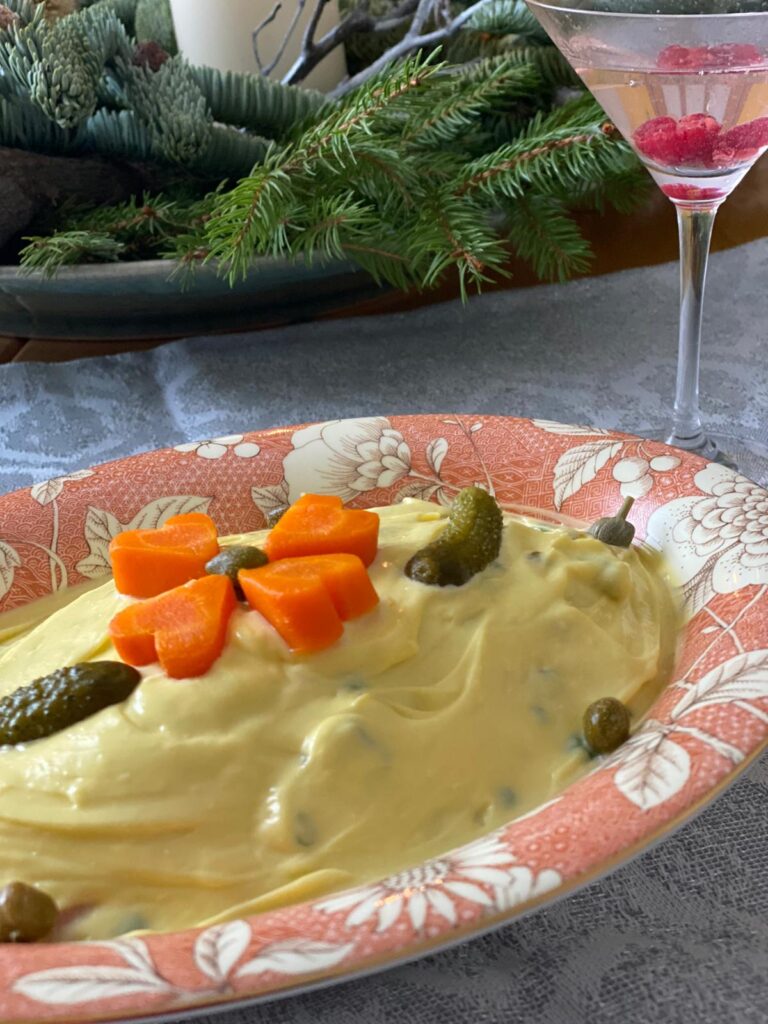 Russian Salad
Course: Appetizers, Recipes
Ingredients
1 large potato

2 carrots

100gr of frozen peas

100 gr of fresh or frozen green beans


 5 cornichons + 2 for decoration


 15 capers in brine


1 jar of 500 gr of good mayo
Directions
Prepare the pot for steaming, with water and a good handful of salt.
Cut the potato into small cubes.
Keep the largest part of 1 whole carrot (it will be used for decoration) and cut what remains and the other carrot into small cubes. Steam the two vegetables together for about ten minutes.
Remove the vegetables from the basket, put them in a bowl and allow to cool.
Meanwhile, cut the green beans into small pieces and cook them together with the peas in the steamer basket. 7-8 minutes will be enough.
Remove the vegetables from the basket and pour them into the bowl along with the other vegetables. Lascar cool.
Add the diced cucumbers and capers. Add half the jar of mayonnaise and mix everything.
In a deep dish arrange the mixture giving the shape of a dome. Cover with the remaining mayonnaise and decorate with the remaining vegetables. Refrigerate until ready to serve.