This post is also available in: Italiano
With this recipe I intend to start publishing recipes for one person. The same can also be made for more people, just multiply the number of ingredients by the number of diners. I thought that this can be useful to the many people who live alone and who, especially at a time like this (pandemic), cannot organize lunches or have friends over.
Eating a meal alone does not necessarily mean preparing sad and monotonous dishes. Varying your diet, adding color to your dish is also essential for a healthy life. Furthermore, using the right quantities for one person helps to avoid having leftovers and not having to eat the same things over several days. In this recipe I used very small peppers that have been found in supermarkets for some years. They are packaged in transparent boxes and are of mixed colors, they are tender and cook in a few minutes, ideal for coloring a single person's plate. Initially they were imported from Florida but now they are also grown in Sicily.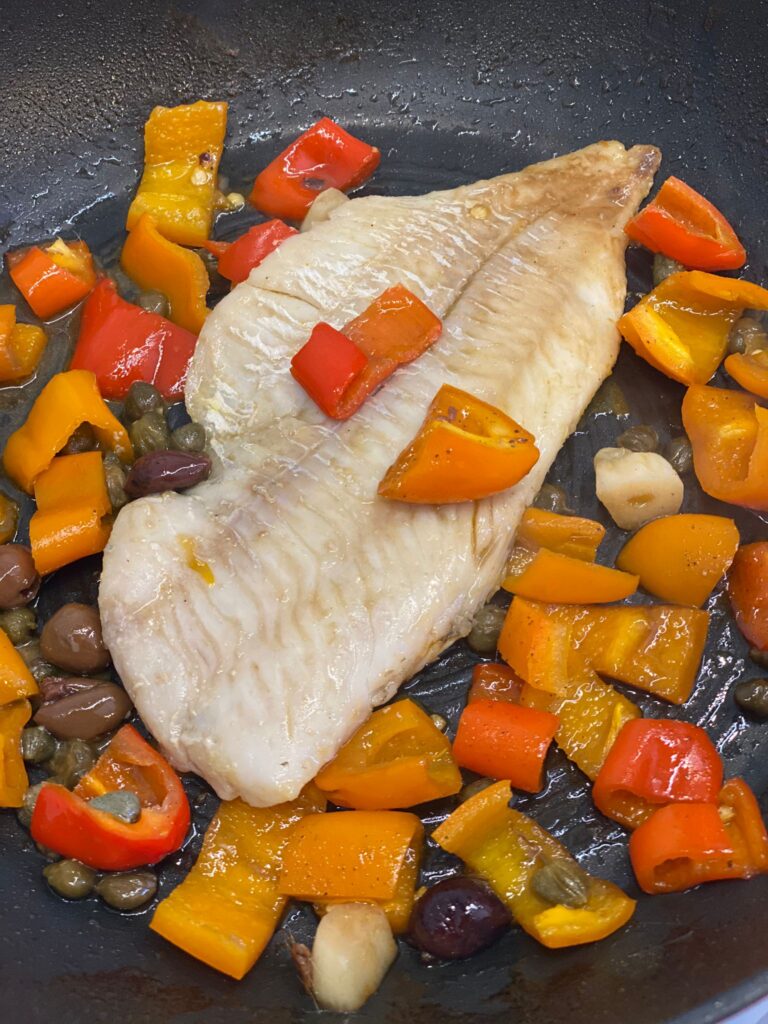 Cod Fillet with Peppers
Course: Fish, Recipes
Ingredients
1 cod filet

4 small red and yellow peppers

6 capers in salt

4 Taggiasca olives

1 spring onion

2 tablespoons of olive oil

Salt and pepper

1/2 teaspoon of turmeric

11/2 glass of water and white wine (half water and half wine)
Directions
Cut the spring onion into thin slices
Cut the peppers into small pieces
Pour the oil, onion and peppers into a non-stick pan
Turn on the heat and fry the onion and peppers for 5 minutes
Dissolve the turmeric in the liquid (water and wine) and pour into the pan, cook for another 10 minutes over medium heat
Wash the capers with cold water to remove the salt and pour them into the pan
Add the Taggiasca olives
Wash the fillet and dry it thoroughly
Make a space in the center of the pan to insert the fillet.
Cook for about 4/5 minutes per side
Add salt and pepper and serve piping hot