This post is also available in: Italiano
Cakes with glossy chocolate frosting have always fascinated me.
For this reason, many years ago I attended a course on working with chocolate in Perugia during the "Eurociocolat"event. From that experience I remember many funny moments, but the process of rendering chocolate to a shiny frosting remains a laborious practice to manage at home.
So, when in February 2008 on the occasion of Valentine's Day I found in the magazine "LA CUCINA ITALIANA" this recipe for a heart with shiny frosting, and I discovered that you could get good results through an easier and faster process. This cake has a delicious flavor as it should be a moment of love.
"LA CUCINA ITALIANA" always offers ideas and solutions within the reach of those who want excellent food at home and this is also the spirit of my blog.
Use 2 heart shaped molds of 10 cm in diameter.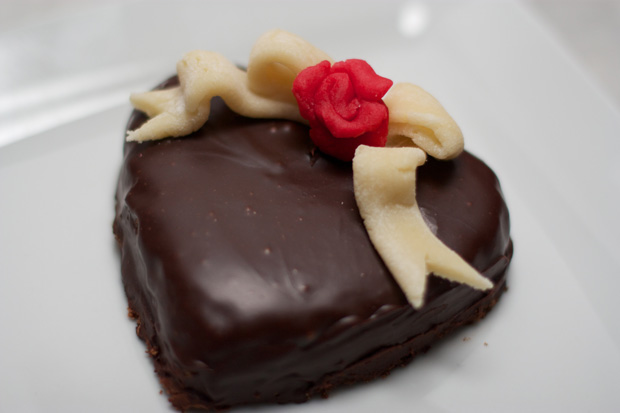 DARK CHOCOLATE CAKE WITH CHERRIES
Preparation time: 60 minutes | Cooking time: 25 minutes
(Serves 2)

For the hearts:
3 oz of dark chocolate
4 tablespoon of softened butter
2 tablespoon powdered sugar
2 tablespoon of cornstarch
2 tablespoon of flour
¼ tablespoon of baking powder
2 eggs
1 jar of cherries in syrup
salt

Chocolate Frosting:
6 oz dark chocolate
3.5 fluid ounces of cream
¼ cup of sugar
2 tablespoon of cocoa
1 tablespoon of butter
Melt chocolate in a double boiler and keep warm.
Work the butter with sugar, add a pinch of salt, the egg yolks and mix to a cream (use an electric whisk if you have one). When it's well mounted, slowly add the melted chocolate and the flour and cornstarch. Beat the egg whites until firm and add to the mixture, stirring gently from bottom to top.
Grease and flour the 2 heart-shaped molds and pour into the mixture. Bake at 350 for 25 minutes. Take the hearts out of the oven, remove the molds and place them on a clean surface to cool down. When they are cold cut them in half horizontally and fill with two chopped cherries and a little bit of their syrup. Recompose forming a single heart like in the photo.
Frosting
Shred the dark chocolate and put it in a bowl. In a saucepan put the sugar and 2 fl. oz. of water. Boil for three minutes, then add the cocoa and butter.
Pour the boiling mixture over the chocolate chips, stirring until it is completely melted, finally add the cream. You must have a glaze smooth and homogeneous.
Pour over the hearts, making sure that they cover completely. Allow to cool. Decorate as desired using marzipan or chocolate.