This post is also available in: Italiano
This recipe is very fast and makes a quick dinner.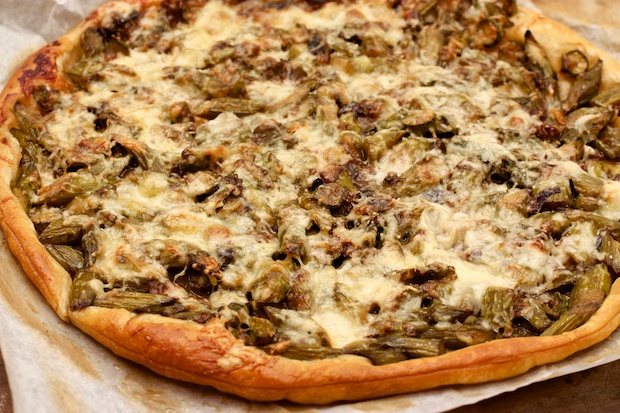 QUICK PIZZA WITH ASPARAGUS
Preparation time: 30 minutes | Cooking time: 20 minutes
Serves 4
1 pack of whole wheat puff pastry
1 bunch of green asparagus
1 white onion
4 oz freshly grated Montasio cheese
1 tablespoons extra virgin olive oil
salt and pepper
Clean the asparagus, remove the hard part at the end and cut into small slices.
Add the olive oil to a pan along with the thinly sliced onion and sauté for 5 minutes. Add the asparagus and season with salt and pepper. Cook over low heat for 15 minutes, stirring often. Turn off the heat and let it cool.
Preheat oven to 375F.
Open the package of puff pastry keeping the wax paper on which it rests and place it on a baking sheet. Add the asparagus and sprinkle cheese over the top. Bake for about 20 minutes. Serve still hot cut into pizza slices.