This post is also available in: Italiano
You only need a few ingredients to prepare a delightful dinner. The combination of cheese and pears has been around for ages. This recipe adds a further element of the season: walnuts.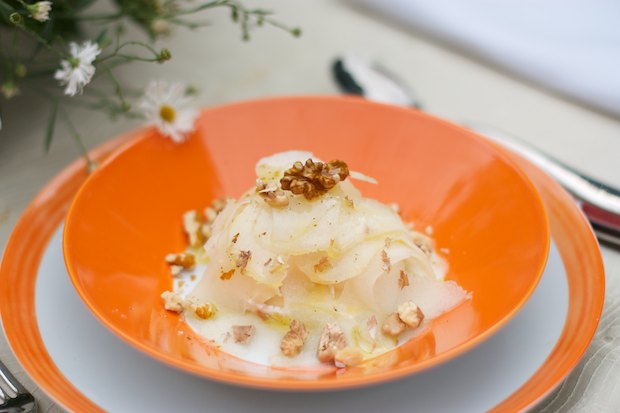 For best results, to avoid the oxidation of the pears, it is advisable to use a ceramic peeler. In fact the oxidation process is accelerated in some fruits that come in contact with a knife blade. After contact, they turn the characteristic brown color that comes from oxidation.
PEARS AND CAMEMBERT
Preparation time: 20 minutes
(Serves 4)

2 red barlett pears
7 ounces of camembert cheese
½ cup of walnuts
2 ½ tablespoons extra virgin olive oil
the juice of half a lemon
salt and pepper
Cut the Camembert into small pieces and divide onto four plates. Peel the pears with a ceramic peeler or potato peeler and place the pears that have been sliced in half on top each small mound of cheese, trying to form a small pyramid. Crumble the nuts over the top the pyramid.
Pour the olive oil, lemon juice, salt and pepper, in a small glass or bowl and emulsify it with a fork. Pour the sauce over each portion.
Serve as an appetizer. If this is your only dish, double the doses.