This post is also available in: Italiano
Sardines, as you have probably already realized by number of times I use them in my recipes, are my favorite because they are economic and versatile. This dish can also be prepared with fresh herring, that have been cleaned and sliced, which you can easily find in the U.S. The skewers group together fish, vegetables, and bread, so they are a complete meal. The recipe was created by a great chef from Friuli named Germano Pontoni.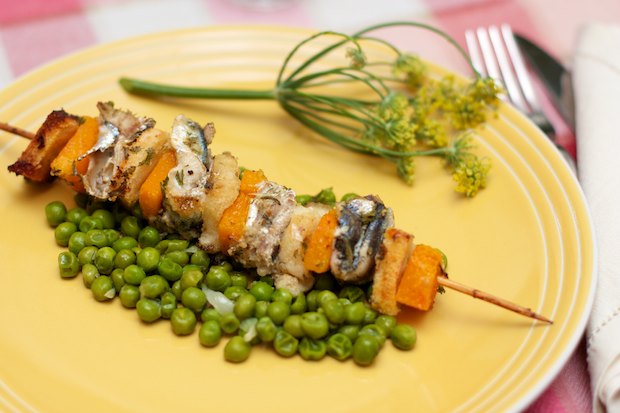 SARDINE SKEWERS WITH PUMPKIN
Preparation time: 40 minutes | Cooking time: 20 minutes
(Serves 4)

16 sardines (already cleaned, without head or spine) or fresh herring fillets
2 cups of cleaned pumpkin (you can use a sugar pumpkin or other small flavorful winter squash)
4 slices of bread
parsley, oregano, basil
2 heaping tablespoons of bread crumbs
1 cup of white wine
3 tablespoons extra virgin olive oil
4 wooden skewers
salt and pepper
Cut the pumpkin into 20 small cubes the same thickness of the slices of bread, all them to a steamer pot, when water comes to a boil, steam them for 10 minutes.
Preheat oven to 400°F.
Cut the bread into 20 cubes, (the same size as the pumpkin were cut). Roll the fish fillets to make a roll. Skewer four sardines (or herring), alternating with the other ingredients. Add salt and pepper.
Mince together the herbs and pour the bread crumbs in a large shallow dish. Pour the olive oil in a baking dish that can hold the skewers. Turn each skewer over in the olive oil and then roll it in the breadcrumbs and chopped herbs. Proceed with the rest of the skewers. Reposition them in the baking dish and add in the white wine and bake for 20 minutes.
Serve on a bed of peas.