This post is also available in: Italiano
When I was little in all the fields that my parents worked (in their case rented) there was a one that was particularly special. It had in fact the characteristic of being bordered to the right and left by a row of of fig trees. The owner of the land had enjoyed planting different varieties he had obtained during his travels. So from the first day of the month of June (when the fig flowers ripen) until the end of September, going out into those fields was quite wonderful because we always had a delicious feast of figs.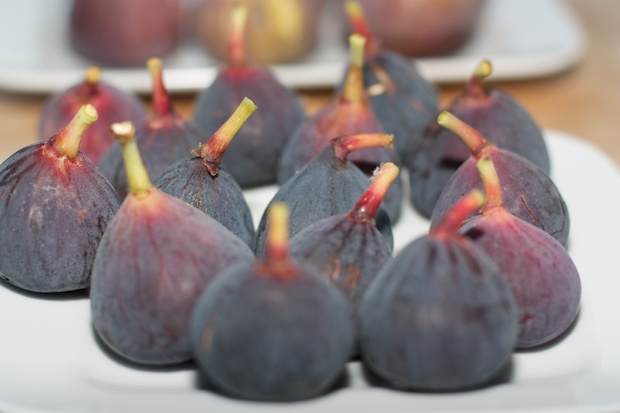 My grandmother always recommended not to overdo it and be careful to pick the mature ones, avoiding those that were immature and in particular those still had a raw milkiness to them from which I might contract herpes. She taught me how to clearly identify the most delicious figs to eat.
A particular merit was given to the figs that were perfectly intact and showed a small crystallized drop at the bottom where there is usually a small hole. This was a rarity only possible in very dry summers. These figs had a nectar that made you feel almost saintly.
Aside from my grandmother's teachings on which figs were overipe and which ones were right to eat, she told me how during her childhood figs represented a suitable food to feed the children of families who often had to make dinner from bread and figs. This is another reason why all the country houses, large and small, always had a fig tree.
Often you didn't even need to plant a tree because the birds alone provided seed sowing. These trees were always more robust because they had figured out by themselves the right place to grow.
Fig trees also are represented in popular symbology and in sayings. We say "you're fat as a fig" (sei grasso come un fico) or "marriage with dried figs" (nozze con i fichi secchi) meaning when you want to start something, but you don't want to spend enough or when you don't have the needed money, and also "it's not worth a fig to me" (non mi importa un fico) meaning "it's not worth it."
The fig is a fruit, rather a set of fruits, formed by thousands of small stems that are inside and are important for our well-being. A fig's fiber content helps the intestine, provides potassium and sugar to give us energy, and vitamins A, B, C that help you feel good. As far as the calories are concerned, it can be compared to mandarin orange.
The plant is native to Asia and has been grown since ancient times throughout the Mediterranean basin. It needs little land to grow, a little water, and lots of sun. This is why we see it growing among the stones in the islands by the wind.
If we have a large and sunny garden with a wasteland where nothing grows, it is worth trying to frow a fig tree. You do not need to prune it and it down not need any special treatment. The only thing it suffers from is temperatures below 32F, therefore it is not suitable in the mountains or in very cold countries.
Fig trees come in hundreds of varieties, but the two large families are white figs and black ones. Each fig tree produces two different kinds of fruits. The first fruit are called "fioroni" (large figs flowers), that are a bit stringy and hard and appear in June, then from August onwards the normal figs ripen.