This post is also available in: Italiano
The first time I tasted a Cream of Celery soup was 30 years ago at the house of a family from Udine. They prepared this dish and I was impressed by its delicate flavor. I didn't dared to ask for the recipe because at that time it was considered rude to ask for the recipes of the dishes tasted during a visit. Later, on a trip to the U.S., I enjoyed celery in a Waldorf Astoria salad made with apples and walnuts.
Over 90 years have spread vegetables and fruit shakes and here and there and celery gave a tasty and original touch to the various mixtures.
In my family, celery always had the role of simple flavor in the broth and sauces. Only in winter, when there were no fresh vegetables a did we eat boiled celery root salad. When I started to know celery's properties (see the Buying Guide section) did it become an important element in my winter kitchen.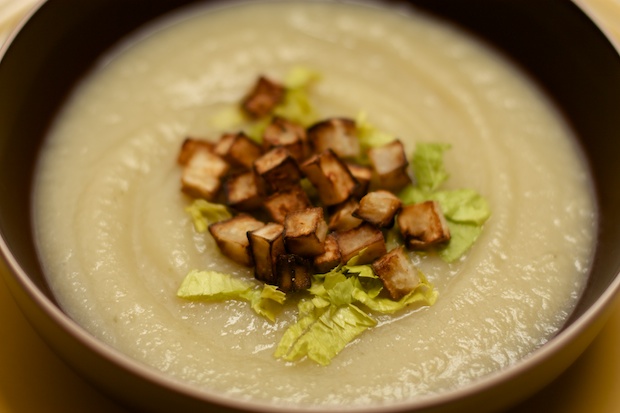 CREAM OF TWO CELERY SOUP
Preparation time: 30 minutes | Cooking time: 60 minutes
For 6 people

800 grams of celery root
3 stalks of celery
1 potato with yellow flesh
1 white onion
1 tablespoon of granulated vegetable broth
1 small piece of ginger root
2 tablespoons extra virgin olive oil
Salt and pepper
a little flour
1 tablespoon of extra virgin olive oil
Clean the celeriac and peel carefully. Take 3 slices and divide them into four pieces. Roughly cut the celery root.
Peel the potato and cut into large pieces. Clean the ribs of celery and cut into pieces.
Peel the onion and cut it into pieces.
Gather all the ingredients in a pot except the ginger. Add 1 liter water. Bring to a boil and continue cooking for about 1 hour. Season with salt and pepper, add the olive oil and with an immersion blender, blend the mixture until it is creamy and smooth (velvety).
Flour the pieces of celeriac and keep them aside.
In a pan pour a tablespoon of oil. When it is hot, brown both sides of the pieces of celery root. Remove from the pan with a slotted spoon and place on a sheet of kitchen paper. Blend the mixture with an immersion blender, when the mixture has reached a velvety texture, grate the ginger into the soup.
Serve hot in bowls garnished with croutons of celery root and some white celery leaf.