This post is also available in: Italiano
Young red onions from Cavasso have been a nice discovery. Despite living in the same province of Pordenone, I had never heard of this vegetable that until a few years ago they were the exclusive cultivation of kitchen gardens in the foothills of the municipality.
Gianna, a friend of my sister's, lives in the area where they come from. In fact it is very special, it makes you tear up when you cut it, it's sweet but intense if eaten raw and tender and delicate when cooked. For some years Cavasso held a rally to promote the onion in all its forms. This year I wanted to attend a gala dinner made ​​in the beautiful rooms of the "Palazzat" in Cavasso Nuovo.
The preparation of the tables was very beautiful and elegant. I particularly appreciated the appetizers where the onion was present in various forms, all the forms were great. The appetizer buffet was served on trays of nickel silver, a bit baroque but beautiful.
From this experience, I thought I'd combine the red onion Cavasso with fish, shrimp in particular that generally do not go well with onion. This fettuccine sauce that I propose.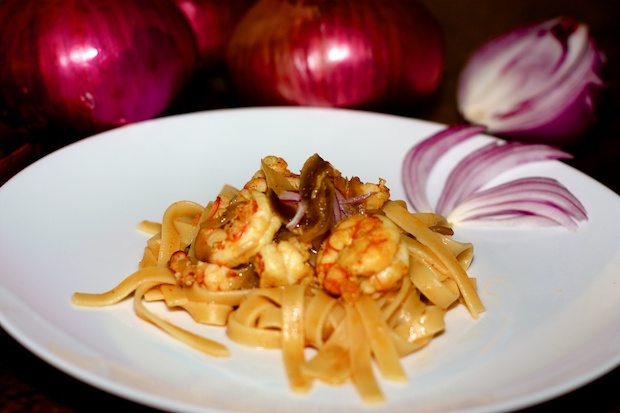 FETTUCCINE WITH CAVASSO RED ONION
Preparation time: 20 minutes | Cooking time: 20 minutes
(Serves 4)

1 large red onion from Cavasso
400 gr. of Argentinian prawns
1 clove of garlic
1 glass of dry white wine
300 gr. fettuccine
2 tablespoons extra virgin olive oil
salt and pepper
Boil water for spaghetti with a bit of salt.
Cut the onion into thin slices.
Pour the oil in a frying pan and the onion.
Cook for a few minutes, then add the wine. Lower the heat and let cook until the liquid has evaporated. Remove the onion from the pan and keep it in a pot.
Pour into the cooking the shrimp and cook over high heat for five minutes, stirring often. Add the onion, salt and pepper. After 1 minute turn off the heat.
Pour the fettuccine into the boiling water and cook according to the package directions. Drain the pasta keeping a little cooking water.
Pour the fettuccine into the pan with the sauce, add a little cooking water, cook on high heat for a minute and serve.